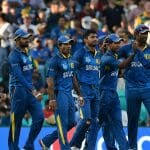 On Saturday we have two matches taking place as New Zealand meet Sri Lanka in Cardiff and Australia play Afghanistan in Bristol.
NZ vs Sri Lanka (@ 11:30)
SETTING THE SCENE: New Zealand shocked India in a warm-up game to show everyone what they could do in the real thing, but then got carted for plenty by the Windies a few days later. Rankings might not count for much in the World Cup but the Kiwi's have been steady performers and are fourth in the world in ODI's whilst the Sri Lankans have been on a constant decline and are way down in eighth. The islanders were comfortably beaten by both Australia and South African in the warm-ups and their bowling looks a touch weak.
The pitch in Cardiff offered up good scores to the batsmen as SA posted 338 and India 359 in the two games there. In terms of seamers versus spinners the track seemed a touch on the slow side but mostly the batsmen are the winners here.
LET'S TALK TACTICS: The Black Caps will pitch up with their quicks and look to blast the Sri Lankans out (which might not be the easiest task on this pitch). Batting wise the New Zealanders have the quality of Williamson and Taylor to call in should they find themselves in a tough spot. Sri Lanka have a few capable batsmen but one struggles to see how they can keep the Kiwis from either chasing down whatever they set them or posting an above 300 total.
HOW I SEE IT PLAYING OUT: Apart from Lakmal the Sri Lankans have little by way of strike bowlers. Guptill will be eyeing this opportunity to get his campaign off to a flying start. The leg spin of Mendis is hardly at the Chahal and Tahir level but on a slowish track he might just catch out a few of the men in black.
Bets with BETOLIMP:
Top NZ Batsman – Martin Guptill @ 4.00
Top Sri Lanka Bowler – Jeevan Mendis @ 5.50
Top Sri Lanka Batsman – Angelo Matthews @ 4.50
Click here to bet on this match
Afghanistan vs Australia (@ 14:30)
SETTING THE SCENE: The Afghans gave everyone a timely reminder that they should not be underestimated when they beat Pakistan by 3 wickets in Bristol in the lead up. If one uses the warm-ups as measure for likelihood of success then Australia should however also come out firing as they toppled the mighty England less than a week ago. They might be as low as fifth on the ICC Rankings but this Aussie side is one on the up.
Bristol will host this day-night encounter. In the past three weeks the Windies smashed an all mighty 420 at this venue whilst England and Pakistan both went past the 350-mark during their recently completed series. This track is a batsman's dream!
LET'S TALK TACTICS: Afghanistan are going to rely on their spin duo of Nabi and Rashid Kahn to try and keep them in the game. Against Pakistan they also had some handy contributions from a few of their batsmen as well. Of course it will be a different story having to contend with the likes of Cummins and Starc at full tilt. Whether batting or bowling first the Aussies will look to be ruthless and take the Afghan seamers to the cleaners with the willow and knock the stuffing out of their top order with the ball. The heavy favourites don't want this to become a close street fight.
HOW I SEE IT PLAYING OUT: The Aussies should be able to have their way with Afghanistan here. Yes Rashid will have to be treated with respect but the rest will be attacked with venom on a track asking for runs to be made by the bucket loads. Should Aus bat first a BIG score could realise. The Aussie top 3 will be licking their lips and here Finch offers the best value. A big fast bowler making things uncomfortable for the Afghan batsmen should be rewarded – I'm taking Cummins. Nabi looks a touch of value with the ball as well.
Bets with BETOLIMP:
Top Australia Batsman – Aaron Finch @ 4.33
Top Australia Bowler – Pat Cummins @ 4.50
Top Afghanistan Bowler – Mohammad Nabi @ 5.50
Click here to bet on this match
(Note, all odds quoted are subject to change)
Enjoy the cricket and happy punting!