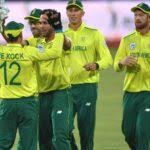 On Wednesday we have 2 matches taking place as South Africa meet India in Southampton whilst New Zealand tackle the giant-slaying Bangladeshis.
India vs South Africa (@ 11:30)
SETTING THE SCENE
It's all doom and gloom in the Protea camp. The defeat to England could easily be chalked down to coming unstuck against the tournament favourites. The humiliating defeat to Bangladesh wad however a disaster and one wonders whether the Proteas' campaign can afford another loss. Whilst the South Africans will be taking the field for the third time this will be India's first outing and they must be chomping at the bit to finally get things going. In their last outing (their second warm-up game) India were made to look foolish by the Trent Boult with a swinging ball, but both their spinners have looked in ominous form.
During the Pakistan series England posted an imposing 370 yet the Pakis very nearly got over the line in their chase. This should be another ground where the bowlers will be happier doing boundary duty than having to try and contain the big hitters.
LET'S TALK TACTICS
It's South Africa's quick men against India's spin. Both Chahal and Yadav are surely certain to be selected and tasked with uprooting a fragile Protea batting line-up. Faf du Plessis for his part will look to Steyn and Rabada to get his team in with a shot of winning this one. Batting wise both teams have shown some vulnerability.
HOW I SEE IT PLAYING OUT
A South African team low in confidence will find it tough going against India's two wrist spinners. The only one who has proven capable of holding his own both in terms of current form as well as facing spin is the skipper himself – it's all up to you Faf! Dale Steyn should be back for the men in green and they need him like I need my overdraft. For India leggie, Chahal has been in incredible form of late and some of the Proteas might need to take a white stick and a Labrador with them on the field to try and read him.
Bets with BETOLIMP:
Top SABatsman – Faf du Plessis @ 5.00
Top SA Bowler – Dale Steyn @5.00
Top India Bowler – YuvzendraChahal @ 4.50
Bangladesh vs New Zealand (@ 14:30)
SETTING THE SCENE
Bangladesh come into this one off the high of an historic victory over South Africa and confidence in the camp can surely not got much better than this. New Zealand easily had the measure of Sri Lanka having romped home with ten wickets in that game.
New Zealand return to the scene of the crime of their Sri Lankan beating and will hope to replicate the exact same recipe – get a bit of a green top and sit back and watch your quickies have some fun. India and South Africa were however both able to pass the 300-mark batting first here in the warm-ups and given the fact that it is an afternoon start the pitch should offer up a good number of runs.
LET'S TALK TACTICS
It was the quicks who got the job done for the Black Caps last time out but they will do well to learn from South Africa's mistakes. The Proteas thought they would pitch up and just cut through the Tigers' line-up like one of those Verimark super knives advertised on telly yet ended up being played with easy by the Bangladeshi middle order. Kane Williamson and his team will have to watch out for this and possibly have to come up with a few extra tricks which the Saffas couldn't. The sub-continent team will be looking to do to the men in black exactly what they did to SA –keep their head with the bat and rely on the tweakers of Mehidy Hasan and Shakib, along with The Fizz to keep you in with a shot with the ball.
HOW I SEE IT PLAYING OUT
Bangladesh were superb against South African but I reckon they might be caught with a bit of a hangover in Cardiff. The upset over the Proteas will mean that the Kiwi's won't be looking past this one at all. Is not every day I will take a small price but I just see New Zealand out-hitting Bangladesh regardless of how the game pans out. It is also pretty boring going with the top runscorer from the previous game but Mushfiqur is the mainstay of this line-up for mind. Lastly, the Tigers are sure to get something short and fast and Ferguson might just be able to pull it off better than the Proteas were able to.
Bets with BETOLIMP:
Most Match Sixes – New Zealand @ 1.74
Top Bangladesh Batsman – Mushfiqur Rahim @ 5.50
Top NZ Bowler – Lockie Ferguson @ 5.00
(Note, all odds quoted are subject to change)
Enjoy the cricket and happy punting!