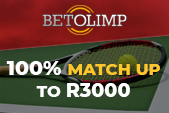 Couch Critic previews the betting for each match in the final round of Six Nations rugby this weekend, brought to you courtesy of BetOlimp.co.za
Note, odds quoted are subject to change
Italy vs France (Saturday 14:30)
During the week a few people have been taking aim at Italy's continued right to be part of the Six Nations. This might just be the tonic needed to really fire the Italians up. Further reason to give the home side a chance of the upset is France's propensity to not only slip over the proverbial banana peel, but at times seem to actively seek the opportunity to take a tumble.
BETOLIMP Best Bet: France to win and beat the handicap of -8.5 points @ 1.82
Wales vs Ireland (Saturday 16:45)
The showdown at noon – or okay rather 16:45. This is the big one. The scenario is clear enough (yet nowhere near simple) for the home side. Beat Ireland, win the Grand Slam and take the title. The Irish have been far from their dominant best. There were glimpses of their tempo game, dominating collisions and getting front foot ball out to their runners against France last week, yet they took the foot off the pedal in the second half. Ireland have either been keeping something in reserve or they have peaked too soon. I reckon we will find out on Saturday which of the two it is as I don't see the men in green being able to realistically compete for Word Cup glory having suffered two Six Nations defeats and played poorly. Warren Gatland's side showed against Scotland that they are surely the most tenacious team in World Rugby at present as it appears their heart and passion far outweighs their nature skill.
Verdict: Despite this Welsh team being on a record run an Irish side firing at full cylinder would be able to take them down. I expect Ireland to dig deep down for a moral boosting victory before the World Cup.
BETOLIMP Best Bet: Ireland to take the win @ 2.11
England vs Scotland (Saturday @ 19:00)
Apart from a semi-slumber of about 20 minutes the Poms were in a potent mood against the Azzurri. Whilst one wonders whether the Irish have prematurely run out of puff the English seem to be hitting their straps at exactly the right time. Kicking off after the Welsh match means England will know by kick-off whether their fate is in their own hands or whether the trophy is within reach.
Verdict: Should the Roses require a bonus point victory to take the Six Nations title they shouldn't have any problem in securing this against the Scots. If the Six Nations trophy is already out of reach they might just take their foot of the pedal so proceed with caution. Personally I believe the English are in free-flow made and will rack up some points.
BETOLIMP Best Bet: Double – England 012.5 onto France/France @ 2.07
Couch Critic