BetXchange are currently offering to double new clients' first deposit up to R10,000, they are also carrying a number of promotions, Superbru competitions and they operate a "Sportal" comprising of betting previews and tips.

BetXchange Superbru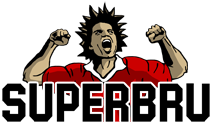 Join the Betxchange club here and select which pool/s you would like to join.
Sports Betting South Africa

Sep 21, 2018 | 16:05 pm

The dream of a massive betting payout is, more often than not, just a dream. But luck is a funny thing and every so often, a story emerges about a punter who has actually managed to defy the betting odds.[…]

Read more...
Sports Betting South Africa

Sep 18, 2018 | 11:07 am

The Currie Cup is South Africa's premier domestic rugby tournament and one of the world's oldest rugby competitions with the first official tournament being played in 1892. This season there are 7 teams in the Currie Cup. Below we highlight the[…]

Read more...
Sports Betting South Africa

Sep 17, 2018 | 18:29 pm

Winning the lottery is, no doubt, almost every person's dream. A huge amount of cash coming your way for simply buying a ticket… it's ideal. However, chances of winning of very slim, which is why lottery betting (betting on the[…]

Read more...