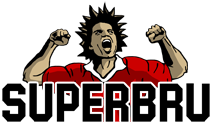 Leading online sportsbook, World Sports Betting have stepped up the plate to offer our biggest ever cash prize along with thousands of rands worth of betting vouchers for the upcoming Superbru Super Rugby Predictor Pool
World Sports Betting recently announced they will be sponsoring the Lions and as an important part of our build up to the Super Rugby season, we are grateful for their support of the ever popular Goodforthegame Superbru Super Rugby Predictor Pool which will be renamed the World Sports Betting Superbru Super Rugby Predictor pool.
The 1st prize will be R5000 in cash plus a minimum of R8400 in voucher prizes for the top 10 finishers as well as the weekly Yellow Cap winners. You will need to have a WSB account to claim the prize and if you haven't already done so you can open an account here and take advantage of the first time deposit bonus.
You can make sure you don't miss out on any of the action by clicking here to join the pool, it is 100% Free to Play and will add some serious excitement to your weekend.
Please take note of the rules below and remember to look out for the trademark Goodforthegame betting previews on the upcoming Super Rugby tournament.
Rules of Engagement for Goodforthegame SuperBru Competitions
We run a host of competitions on SuperBru with some great prizes.Join the Goodforthegame club as it guarantees you will get invited to every pool and won't miss out on any of the action.
Below some of the general rules of the Goodforthegame SuperBru competitions. Goodforthegame reserve the right to change these at our own discretion.
No multiple entries allowed – 1 entry per player only
All cash prizes to be paid to a South African bank account
To claim a betting voucher you must be at least 18 years old
To claim a betting voucher you must be able to open an account with the relevant bookmaker
Betting voucher prizes are not transferable
We will endeavour to contact prize winners through BruMail however should you not receive a BruMail you will be informed of your win in the newsletter
In the event of a tie prizes will be split
If prizes are not claimed within 4 weeks from notification they will expire