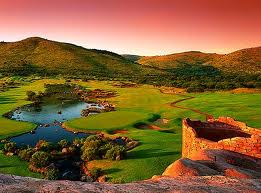 With its bigger field and November tee off the Nedbank Golf Challenge is no longer my favourite golfing event to bet on but I am not prepared to let the week go by without a punt.
This is an event where as a student in the early 90's I would drive to Sun City to watch the golf. Well actually it was less about watching golf than getting a bet on as it was illegal to do so anywhere else at the time. I generally took my biggest golf bet of the year at Sun City and am still riding (or should I say own) a mountain bike called "Sergio" after the Spaniards brilliant come from behind win in the early 2000's. Other great memories include backing Furyk at inflated odds offered by a bookmaker who must have been on crack at the time and has since turned into an "Oracle" and I had a big go on Stenson the year he ran away with the event. More recently I hit Bjorn at 40/1 but of course finding a winner is tougher in this 72 man field.
I was preparing to have a real go at Stenson but he is not playing due to injury. As is usually the case for events like this I have read the opinions of many others including golf tipsters and contributors to the Goodforthegame Forum and it is now time to take my bets.
Tommy Fleetwood win at 20/1
Ben Coley writes the Sportinglife previews and when I read his piece I was already earmarking Fleetwood as a likely winner given his motivation to close out the Race to Dubai and the fact that rival Justin Rose is skipping this event. The preview was very convincing and I have gone from fancying a punt on Fleetwood to making him a good thing and I am going to have a strike. He hits a lot of greens and that is essential at the Gary Player Country Club and my only concern is fatigue as he has had a tiring schedule.
Nicolas Colsaerts win at 40/1
Southpaw has been one of our top horse racing and rugby forum contributors for many years but he also tends to pop up with 20/1 football accumulators and a nice priced golf winner in big events. In this weeks golf thread he highlights the big hitting Nicolas Colsaerts as an each way option at 40/1. Colsaerts showed his form last week with a runner up finish to Rose in Turkey and if he can stay out of the thick stuff off the tee he will be a big runner.
Dylan Frittelli win at 50/1 and Top SA player at 10/1
I have followed the South African closely this year and after his fast finishing 2nd in Turkey was looking to back him here despite his not having played the event. Being a South African he has surely played the course though and he has shown that making his debut on courses is in any event not an issue for him. Steve Rawlings writes a weekly preview for Betfair (sorry SA punters we are not allowed accounts there) and I was delighted to see he rubber stamped the Frittelli pick in his usual excellent preview which is always my starting point for golf research. I am going to throw Frittelli in as a Top SA player pick as well as I feel there are question marks over all of the players above him in the betting.
Brandon Stone win at 200/1, Top 10 at 16/1
To end off a direct quote from one of our grizzled forum veterans "The Vann"
How about - Born in Rustenburg, Dad worked at Sun City, Knows the course and plays better in SA and, with Oosthuizen, is an ambassador for Sun International AND is 200/1. Probably my early pick of the week for top 10 Brandon Stone.
By the way I am going win only with all my outright bets, in this tournament I like to win big or go home.
Enjoy the golf and 'Get in" Fleetwood you good thing!