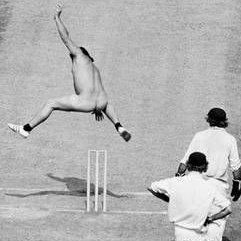 It is strange how many armchair fanatics one gets who are avid fans and seriously keen on dishing out their opinions without having played the game they so love at any respectable level.
Now this Critic is one of those who couldn't even make the first team yet gets stuck into analysing and criticising from the comfort of his couch – and no I do not think it is unfair to do so or see myself less "qualified" than others. If you spend as much time as I do watching the best of the best execute their skills you get a very good idea of who's got it and who doesn't and also of who had a stinker and who a blinder.
But the argument around ex-players versus serious novices is not something I want to go into detail to here today. My dad was one of those who actually played the game pretty well – Bulls under 19 after Grey Bloem. Yet growing up I realised he never quite watched rugby matches with the same passion and intensity as I did. He had had his own run, had the bad back to prove it (the toll of playing hooker). For me, I was emotionally invested in the big hits and exhilarating runs put in by my provincial and national heroes perhaps due to the fact that I never had the chance to do much of it myself. Dad would read the paper whilst the game was on (only peering up over the pages in moments of excitement) whilst the pause function on the dstv Explorer decoder was a life changing innovation for the Couch Critic who hardly wanted to blink during a live rugby game.
Born and schooled in the Free State, age group rugby in Pretoria and then settling down for family life in KZN dad could be excused for being conflicted with regard to provincial loyalty. Thus instead of being a die-hard loyalist he preferred showing his allegiance to "good rugby". The likes of Beast who would follow up a strong scrum with a barging run moments later was the kind of thing that would get dad putting downthe Financial Mail he was reading. Getting into scraps and being involved in hand bags is not something which sat well with my old man (Bismarck often frustrated him in this regard) and don't even get me started on a rugby player with a strange haircut and tattoos (Jantjies was not well received in our house).
So, dadio as I write this on Father's Day here is your report back on this weekend's action.
The rugby field is no place to get cocky (as I can hear you saying) and perhaps this is what has happened to the Kiwis during the last few months. It must be tough consistently trying to push yourself to new targets, challenges and achievements when you are dominating a sport as convincingly as the All Blacks have done over the last decade. Yet it seems that point has now been reached were the men in black are finding it tough to keep improving and evolving from their already lofty levels of superiority. Of course it could just be that all those tats are finally starting to weight them down pops.
The Irish proved your philosophy that test rugby is probably not supposed to be pretty. It's an arm wrestle won in the tight stuff upfront. The Aussies were never up to the physical challenge of the fired-up Irishmen despite starting with a try in the second minute. I'm sure you will be enjoying your morning tea with a smile seeing the convicts come up short (a dislike for all things Aussie is clearly a trait my dad passed on to me).
Then we have the Boks. The situation looked dire when we experienced deja vu as the English ran in two simply tries early on – again showing a weakness in defence out wide. Fortunately the young Boks were able to right the ship, led of course by a couple of experienced hands.
Beast would have had you smiling from ear to ear as he rolled the years back on his 100th outing in the green and gold. A solid scrum effort was complimented by a trademark Beast break down the middle of the park. And then there was Duane. He listened to your advice from a few years back and clearly the shorter hair is working wonders dad. Vermeulen was dominant with his big hits and bustling ball carries – you wouldn't believe it but there were a number of people who were complaining about his re-call under Rassie but as you would expect those blokes are now nowhere to be seen.
You taught me to never judge too quickly but unfortunately I still slip up on the odd occasion. I gave Thomas du Toit no chance of pulling off the switch to tighthead but yesterday he came off the bench and did a hell of a job. I still think he has some way to go before we can put the family seal onto the verdict of the switch but jeez he might just have a future (a very long and very successful one) at no.3.
I have quite the man-crush on Akker van der Merwe at present. I think you would have been a huge fan. A burley hooker he just plays his heart out and refuses to go down unless it is absolutely necessitated by an opponent or three restraining him with the extreme effort – think along the lines of trying to tranquilise one of those rhinos who so often saw at iMfolozi game reserve.
In recent times I believe watching Springbok games was more torture than pleasure. But I must admit I am starting to find my faith in the Bokke again and hope the Man Upstairs allows you all the opportunity of watching Rassie's side grow in the months to come. Enjoy it with a good glass of Cab Sav and biltong with almost as much fat as meat and it sure sounds a lot like heaven to me.
Go well old boy.
Who is Couch Critic?
Hein Diemont is the resident "Couch Critic" in the Goodforthegame Forum and he shares his weekly Super Rugby Blog the "Post Match Scuffle" or "PMS" with us.
In his blog Couch Critic channels his usual weekend swearing, ranting, cheering, whinging and bickering to the written word. Brutally honest opinions of how the Super Rugby action went down from his perspective – no punches pulled, it's PMS time…
This Blog is brought to you by leading South African bookmaker World Sports Betting – click here to "Bet with the Best"
You can follow Hein on Twitter @HDCouchCritic and he also posts his blogs on Word Press
Don't miss the trademark Goodforthegame Betting Previews for this coming weekend