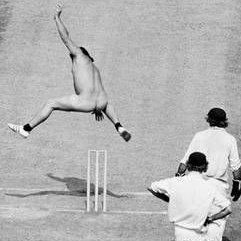 When the rugby season comes to an end this critic swops his couch seat for a spot in the middle of the action. Perhaps as a sadistic form of clearing my conscious for not holding back with my comments from the couch I trade the criticizing of rugby players for copping a fair amount of abuse from weekend warriors in the middle of the pitch as I umpire in the local cricket league.
[For the record – no I didn't forget my Labrador and white cane at home gents and no we are not sponsored by Specsavers].
THE SOCIAL SEVENS
This past Saturday my game was called off due to a wet pitch and this fortunately offered the Couch Critic the opportunity to settle back into his favourite spot and watch a substantial amount of the shorter format rugga (not something I do all that often). This came at an opportune time for two reasons. Firstly the Blitzbokke have been in sublime form and it is nice sitting down with the expectation of a South African team doing well, rather than fearing for the worst. Secondly, I had experienced quite a difference of opinion on rugby websites and in social media with regard to the Sevens game, so it was the perfect opportunity to really knuckle down and finalise some of my own thoughts on the matter whilst enjoying the Cape Town event.
Alloutrugby.com published two rather contrasting pieces on the merits of the Sevens game within the broader rugby landscape. @DevinMyles11 hit some quality points in his piece regarding the role of Sevens but of course my man @Zells77 played devil's advocate in offering mostly contrasting views. Never one to shy away from the controversial view point I always enjoy the straight shooting of Mr Allout even though,in this instance, I disagree with him on a few matters when it comes to the so-called B and C team rugby that is World Sevens.
The bull-in-a-china-shop that is known as the Oracle took exception to some (read most) of Zelím's views and the exchange between the two was rather entertaining I must admit. @OracleRugby's love for the Lions (only matched by the admiration of @Deme80537610 to the self-same unit from Gangster's paradise) and all matters South African has seen him take a bit of criticism as he more often than not sides in favour of a team in green in gold for his punting picks when others might question the wisdom thereof. Among the betting fraternity few take exception to the clairvoyant one's patriotic passion than good old @hanrickswart. The prolific rugby punter went from being a one-eyed Western Province supporter to almost gaining extra pleasure when a team under Toetie or Dobbo comes unstuck.Personally passion and sport go hand-in-hand and trying to separate them would be against my nature. Like tamatiesmoor over mieliepap, Mrs Balls chutney added to a good curry or korrelkonfytaccompanying snoek having a betting interest in a sporting event is purely about having that extra condiment which adds flavour to the main experience. So call away at those "Crazy quotes" from your crystal ball as I'm all ears Oracle!
Regardless of whether I always agree with every view published by any of the "pundits" I follow its been another exhilarating ride on this rollercoaster of sport watching in 2017 and I appreciate the chirps, discussions, ideas gained and insights shared with each and every one of you. Even the lop-sided views of Ryan Vrede has sparked a few thought for this column (and his weird fashion style a few jokes). Mr Keohane and I are still teetering on the edge with regard to our relationship as I feel his one-eyed race biased views get rather boring and predictable after a while – much like the 1ooth season of Idols I have mostly lost interest.
BLITZ SUCCESS WORTH A COPY?
But lets get back to Sevens. The success of the South African 7's side is without a doubt something most teams in SA can learn (at least something) from in my opinion.
In a year where the Boks were poor yet again and the High Performance Centre of the Bulls appeared to be worse run by Xander than Zim under Bob there is a strong administrative lesson to be learnt from the short format as well as with regard to skills and coaching.
Lesson 1: Put long term plans and processes in place for identification and development of talent– as seen from the establishment of the Stellenbosch training base for the 7's.
Lesson 2: Identify and fast track the development of players with immense talent; ex. Damian Willemse, Galant, Bosch, Ox Nche, Rohan Janse van Rensburg, Nkosi, etc. and get them involved in the national set-up and exposed to advanced training and grooming opportunities– the role done by the Sevens academy in their system.
Lesson 3: Re-capture the buy-in from the rugby watching public by cultivating an open, approachable set-up around the Springbok team rather than smoke and mirror excuses in post-match media conferences and certain players clearly being selected merely as window dressing– the Blitzbokke are loved and respected not only for their results but the spirit in which they play the game and carry themselves on and off the field.
Lesson 4: Regardless of what it is going to be exactly, create a national rugby culture and start filtering this through to different teams and levels – at Seven level any player stepping into the first team knows and understand his role in the side and the style and gameplan that will be implemented.
Lesson 5: Sevens can magnify skills development.Expose players to Sevens rugby as part of their development. Imagine what Powel's skill-focussed training could do for the likes of Damian de Allende or Rohan Janse van Rensburg.
There are without a doubt lessons that can be taken from Sevens and utilised in the fifteen-man format. But please don't get me wrong –men like Zelim and Hanrick hit the nail on the head when they say that there is a huge difference between Cecil Afrika running circles around Spain and Branco du Preez lacing up his boots for Super Rugby duty. Yes for 90% of the current crop of Sevens players this is the pinnacle of their rugby careers. Afrika has been found out in REAL rugby and a Kolbe or Branco can't just be shifted to scrumhalf due to their lack of size since number 9 is a specialist position requiring technical skills such as a bullet pass and an educated boot – not something you pick up in a few weeks of training.
Yet Fiji have a culture of Sevens in their country and only later moved to fifteen-man rugby. Many of these players have proven that it is possible to make such a switch. Remember the big difference between Kiwi players and the rest is that that have physical specimens who also have incredible skill – why then would South Africans shy away from the opportunity of using Sevens to also help sculpt these types of athletes in our country.
I dream of a South Africa where we have big lads like RjV and DDAin our backline who have an eye for space as well as silky smooth skills to complement their undoubted power. Then add the traditional strong Saffa tight five; hard as nails loosies in the mould of Thor Vermeulen and little Akkies; throw in some speed from Nkosi, Mapimpi, Senatla; and sprinkle some special flair ala Galant, Willemse, Kwagga and surely the future could only be bright.
EVERYTHING OF THE BEST TO MY SPORTING MATES
May the round ball hit the back of the right net for Chris and @goodforthegame in the new year and here's to plenty of big numbers crossing the whitewash with @BrentGraham's obligatory shirt buys. I trust the ponies will perform for @AlanMoscropand may @bingo47111 have some ammo left after all his 7 days of Christmas Takealot gifting purchases.@GarthRidgway and @Sean_Nicholas all the best with never walking alone…For myself, @GreggMac11 and @muzzaPeace we can only hope the 2018 version of the Sharks gives us something to smile about.
See you all next year for some more rugby rants!
Who is Couch Critic?
Hein Diemont is the resident "Couch Critic" in the Goodforthegame Forum and he shares his weekly Super Rugby Blog the "Post Match Scuffle" or "PMS" with us.
In his blog Couch Critic channels his usual weekend swearing, ranting, cheering, whinging and bickering to the written word. Brutally honest opinions of how the Super Rugby action went down from his perspective – no punches pulled, it's PMS time…
This Blog is brought to you by leading South African bookmaker World Sports Betting – click here to "Bet with the Best"
You can follow Hein on Twitter @HDCouchCritic and he also posts his blogs on Word Press
Don't miss the trademark Goodforthegame Betting Previews for this coming weekend