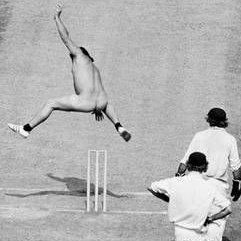 If drawing is like kissing your sister then drawing against the Aussies must be the equivalent of make out with your cousin – and not the good looking one that you've always secretly wished wasn't family but the braces wearing "fuller model" with the crossed eyes.
The good doctor, Brendon Venter, fronted up to the critics on social media, taking bullets for his boys as he refused to be shaken from his belief that his players laid it all on the line in the aftermath of the Kiwi caning. Doc Venter was of the opinion that his chargers deserved respect rather than ridicule for their efforts in Bloemfontein against the Aussies. The response to this Tweet left me with the impression that very few supporters were in agreement with him.
The World Cup winning centre is seen as a mastermind of the modern game and his opinions certainly carry some weight. Of course it can be 100 percent true that all 23 guys in green and gold played their hearts out in Saturday and yes that is great to hear, but surely no one should ever be charging into action after listening to you national anthem and not letting rip with everything you have in you. The fact that the assistant coach is adamant that the players left everything out on the park in terms of effort is in fact a terrifying one from where I am sitting - if this is the results that are delivered when everyone is giving their absolute everything then surely if no personnel changes are made the nation can't ever really expect much more from this group than what we got in Bloem…
The one thing the good doctor said (and which I am in complete agreement on) is that this current Springbok group is still in the process of developing their own DNA. A truer word has hardly been spoken for mind. It seems people are expecting a flyhalf who kicks like Morne, tackles like Honiball and runs like Gaffie du Toit. We want De Wet Barry meets Danie Gerber in the centres and our own WaisakeNaholo on the wing. In terms of game plan we want to see the Springboks find their attacking flair and get the outside backs roaming free.
For the most part this is a pipe-dream. These players largely don't exist. And modern day defensive systems mean that there just isn't that type of space available anymore for backlines to run to their heart's content. The fact that the All Blacks kick more than most of their opponents is a good example that even they don't just run every ball. Thus somewhere the Springboks need to find a way forward. What exactly is the style that best suits the capabilities and mentality of the South African game, how can this be moulded into a relevant, effective match-winning method in modern international rugby and lastly who are the players who will best serve this system.
Of course changing a style does not happen overnight and the supporters will have to have a degree of patience. But surely if they can see improvement and believe in the end goal they too will have a little bit of sympathy – but by spitting out double sided reasoning and trying to fool the public into believing that the train is still on track is insulting. It's time to call a spade a spade, admit current shortcomings and get a shared future vision to buy into going forward.
Local is lekker (but mostly only in the Tank)
On the local front the Sharks are now so far out of sight of the other teams in the Currie Cup that the organisers should in fact just hand them the trophy and not expect them to have to play a semi-final and final in a few weeks' time. The pack is working beautifully with Thomas (The Tank) du Toit impressing on a weekly basis and Franco Marais is one of the unsung heroes of the local game. Ruan Botha was an inspired signing (it is not often we can say this from the guys in charge of the cheque book at Kingspark) and has done well as leader. Marius Louw has popped onto the scene as a real future star performer for the franchise and then of course there is the Bok in waiting, Sibusiso Nkosi. Let's not forget Curwin Bosch who seems to be maturing with every match.
As for the other sides the Pumas have impressed in patches. The Cheetahs have a few excitement machines from the Sevens code but having to do double duty with the Guinness Pro 14 there just isn't enough talent to cover all the bases in Bloemfontein at present. The Lions have shown glimpses of settling down with a strong front row in tact but the smooth-running backline seen in Super Rugby is yet to settle into their attacking rhythm in the Currie Cup.
And then there is the Bulls, oh the Bulls. It might have been a blessing in disguise for fans of the baby blue bulletjies that the Super Sport cameras missed some of the action because it was another heart-breaking loss for the men from Pretoria at the end of the day. At least the home side were able to run in seven tries so perhaps the Mitchell factor is starting to take shape in terms of their attacking play. Defence is always something that can be worked on later.
We were meant to run

On Sunday I was trying my best to do a "rugby-cleanse". After the frustration of watching the Boks blunder their way to a draw the last thing this critic wanted to see was highlights of any game involving the oval shaped ball. Instead I settled down in little garden at home enjoying the first real sunny sight of spring. Reading a travel magazine on my sun lounger I stumbled across an interview with adventurer Gaven Sinclair. The crazy lad completed a Cape to Cairo cycle last year but is now planning a mind blowing 5528km run through Africa. At one stage in the interview Sinclair is quoted as saying that he believes humans were born to run since our ancestors were able to run-down animals in order to hunt them.
Reading this my mind shifted back to the rugby and I again saw Wayde van Niekerk there in the stands at the Wallaby game jumping up in anguish at one stage. Perhaps we should not all be getting quite so upset at the fact that we are not right at the sharp end of the rugby playing nations at present. Perhaps we as South Africans should embrace the fact that we were meant to be runners (like our Ethiopian neighbours) rather than rugby players. We already have Van Niekerk and Semenya making us proud on this front; why allow ourselves to be bogged down by the bumbling Boks. Perhaps we should just learn to shrug our shoulders and accept mediocracy - we already do this once every four years with our cricket team and pretty much each and every week for the soccer strugglers over the past decade so it shouldn't really be anything new for sport fans.
But alas, whilst playing good cricket, rugby or soccer was never part of my genetic make-up it still is very much in my jeans to be a red blooded never-say-die South African supporter. So whilst it might not yet be in the DNA of the good doctor's Bokkiesto play winning rugby it is in mine to bitch, moan, scowl, hope and sometimes even pray from my couch that the men in green and gold get their act together ASAP!
Who is Couch Critic?
Hein Diemont is the resident "Couch Critic" in the Goodforthegame Forum and he shares his weekly Super Rugby Blog the "Post Match Scuffle" or "PMS" with us.
In his blog Couch Critic channels his usual weekend swearing, ranting, cheering, whinging and bickering to the written word. Brutally honest opinions of how the Super Rugby action went down from his perspective – no punches pulled, it's PMS time…
This Blog is brought to you by leading South African bookmaker World Sports Betting – click here to "Bet with the Best"
You can follow Hein on Twitter @HDCouchCritic and he also posts his blogs on Word Press
Don't miss the trademark Goodforthegame Betting Previews for this coming weekend