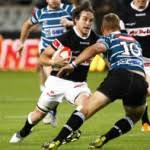 As far as the standings are concerned bottom takes on top as the Griquas host the Sharks in the first of two Currie Cup Round 10 matches taking place on Friday.
Griquas v Sharks, Friday 15th September, Kimberley, Kick Off 17:00
Weather Forecast: - Kimberley
Referee: Anselmi Federico
Assistant referees: AJ Jacobs, Mpho Matsaung
Television match official: Shaun Veldsman
Griquas:
The Griquas have slid to the bottom of the log after losing each of their last 3 matches. Their last victory came away to the Cheetahs in Round 5 and the gap to fourth spot, the last of the play off places, now stands at 4 points. In Round 9 the Griquas lost 34-17 at home to the Golden Lions and earlier in the tournament the Bulls (45-51) and the Pumas (21-27) also won in Kimberley. Western Province did fluff their lines here (44-34) but more recently the Griquas have found themselves playing catch up in the later stages of their matches. After this Griquas visit Western Province, host the Cheetahs and travel to meet the Pumas.
Sharks:
There are no such concerns for the Sharks although they had to dig deep to record an eighth straight win when they beat the Pumas 27-25 in Nelspuit in Round 9. There was no joy for minus handicap backers in Nelspruit last week with the handicap starting at around 9.5 points but the Sharks remain on course to seal top spot as we head towards the play offs and they are odds on favourites to lift the trophy. Coming into this round the Sharks have a 14 point lead at the top of the log and whilst the chasers have at least 1 game in hand, the Sharks have 3 home games to come after this visit to Kimberley.
In the earlier meeting this season the Sharks easily covered a handicap that was set in the mid teens when they ran in 6 unanswered tries in Durban.
Recent Head to Head
2017 Sharks 41-3 Griquas
2016 Sharks 46-24 Griquas
2015 Griquas 20-45 Sharks
2014 Sharks 18-21 Griquas
2014 Griquas 24-31 Sharks
2013 Griquas 24-25 Sharks
2013 Sharks 30-32 Griquas
2012 Sharks 42-3 Griquas
2012 Griquas 22-15 Sharks
Team News:
Griquas: 1 Nicolaas Oosthuizen, 2 AJ Le Roux, 3 Stephan Kotze, 4 Jonathan Adendorf, 5 Pieter Janse van Vuren, 6 Wendal Wehr, 7 Sias Koen, 8 De Wet Kruger, 9 Renier Botha, 10 George Whitehead, 11 Enver Brandt, 12 Johnathan Francke, 13 Kyle Steyn, 14 Ederies Arendse, 15 AJ Coertzen (captain)
Substitutes: 16 Wilmar Arnoldi, 17 Liam Hendricks, 18 Sintu Manjezi, 19 Shaun McDonald, 20 Tiaan Dorfling, 21 Andre Swarts, 22 Eric Zana
Sharks –15 Garth April, 14 Odwa Ndungane, 13 Jeremy Ward, 12 Marius Louw, 11 Sibusiso Nkosi, 10 Curwin Bosch, 9 Louis Schreuder, 8 Tera Mtembu, 7 Tyler Paul, 6 Keegan Daniel, 5 Ruan Botha (c), 4 Jean Droste, 3 Ross Geldenhuys, 2 Franco Marais, 1 Juan Schoeman.
Subs: 16 Akker van der Merwe, 17 Thomas du Toit, 18 Hyron Andrews, 19 Wian Vosloo, 20 Michael Claassens, 21 Tristan Blewett, 22 Inny Radebe
The Betting
Handicap
Griquas +9.5 points 9/10 BetXchange
Sharks -8.5 points 9/10 WSB
Note, odds quoted are correct at the time of last update but are subject to change.
Betting Angle
The Sharks on the minus is my pick here. Although the cap is similar to last week at the Pumas, a game which was settled by just 2 points, the Griquas have been battling to put it together for 80 minutes and the Sharks have a strong bench to help thwart any customary late charge from the home side.
Bet: 5 units Sharks -8.5 points 9/10 WSB

Remember you can have your own say on all this week's matches on our discussion forum