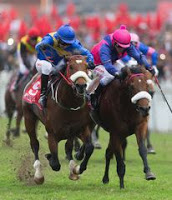 The 2018 edition of Vodacom Durban July will be run at Greyville Racecourse, Durban over 2200m on Saturday 7th July, the final field of runners and riders and our preview with tips are available here.
A list of runners and riders and the odds of reward (which are subject to change) are available at the end of this betting preview kindly provided by feature race specialist Southpaw
Southpaw's Preview
The Vodacom Durban July takes place at Greyville on Saturday afternoon and punters who don't fancy the favourite will find plenty of value in the field, such is the open looking nature of this years contest.
A maximum field of 18 are set to line-up over the 2200m Grade One contest, although it could be fair to say that the quality is perhaps somewhat lacking to compared to recent times. Usually I give a full run-through of the each of the runners, but unfortunately work and family commitments have limited my punting time of late so please excuse the shorter preview.
I'm a sucker for an ante-post bet and I've had two punts in the months leading up to this race. One of those was a tip I put on the Goodforthegame forum on 24th May – WHITE RIVER had caught my eye as an interesting July entry, and the trainer was one who I really respect when it comes to the big KZN winter features. I suggested 25/1 e/w was a good ante-post punt and it was pleasing to see him make the final field.
White River's price has taken a bit of a tumble in the last week, which hopefully is a positive sign. What I liked about his chances was the fact he'd been running against top quality sorts over his 3yr old career, and had a few hard luck stories in some of those big Cape features. His last effort in the Daily News 2000 was a slightly odd display – I'm not sure the race was run to his liking, but he comes into this weekend carrying just 53kg. It will be his 2nd outing after being gelded and I'm expecting big improvement and a bold effort from Brett Crawford's runner.
My other early ante-post punt, for a lesser stake, was YAKEEN at 25/1. I had written off this punt after he ran a shocker in the GR3 Tony Ruffel stakes, but he's since bounced back to real off back-to-back wins to earn a spot in the July. Granted he needs to show even bigger improvement to feature on Saturday, but he seems to have more to come, and based on recent efforts the Greyville course could suit him perfectly.
Ruling and clear favourite AFRICAN NIGHT SKY has had a superb prep for the July and absolutely cruised in last time out over 1800m at the Greyville track. Justin Snaith has a powerful hand in this race and AFRICAN NIGHT SKY looks the pick of the bunch on that last effort. He did cop a penalty as a result but we know he stays the trip just fine and he must be included in your top few selections.
MAJESTIC MAMBO hasn't quite lived up to his early career promise but he caught the eye when mowing down all bar one in the Daily News 2000. He will look to come off the pace again on Saturday and he looks a dark horse who we know has the potential but needs to show he's over his issues and back to his best to feature.
My final pick for some each-way value and a lively quartet chance is the rank outsider GOLD STANDARD, who's recent form isn't too inspiring but is one who I think has the class to surprise if back to his best. He needed his last outing and it wasn't a bad effort over a trip short of his ideal distance, and a plum inside 6 draw will help his chances this weekend.
SUMMARY:
There are a number of others in this field for which a case could be made, but I'm fairly in the White River camp and hope to see my other picks above run into the money. My top 5 are below and I'll be taking any further bets around this group:
1st. WHITE RIVER (10/1)
2nd. YAKEEN (25/1)
3rd AFICAN NIGHT SKY (5/2)
4th MAJESTIC MAMBO (12/1)
5th GOLD STANTDARD (40/1)
*PRICES CORRECT AT TIME OF WRITING.
WSB Durban July Show
You can also check out the WSB Durban July Show video analysis right here.
Final Field and Betting
Last Update on Prices 14:00 5th July, to be updated periodically.
1. CORAL FEVER 40/1
Draw (4) Trainer Robbie Sage Jockey Muzi Yeni, Weight 60.0
2. (6) GOLD STANDARD 40/1
Draw (6) Trainer Glen Kotzen Jockey Craig Zackey Weight 59.5
3. ABASHIRI 12/1
Draw (2) Trainer M G Azzie/A A Azzie Jockey Piere Strydom Weight 58.5
4. AFRICAN NIGHT SKY 5/2
Draw (10) Trainer Justin Snaith Jockey Grant van Niekerk Weight 57.0
5. ELUSIVE SILVA 13/1
Draw (14) Trainer Justin Snaith Jockey Bernard Fayd'Herbe Weight 56.5
6. LIEGE 40/1
Draw (18) Trainer Sean Tarry Jockey Raymond Danielson Weight 56.0
7. STAR EXPRESS 45/1
Draw (9) Trainer Justin Snaith Jockey Aldo Domeyer Weight 55,5
8. DO IT AGAIN 15/2
Draw (16) Trainer Justin Snaith Jockey Anton Marcus Weight 54.0
9. MAJESTIC MAMBO 12/1
Draw (19) Trainer Paul Peter Jockey Callan Murray Weight 54.0
10. MATADOR MAN 20/1
Draw (15) Trainer Sean Tarry Jockey S Khumalo Weight 53.5
11. FIORELLA 33/1
Draw (8) Trainer Duncan Howells Jockey Mark Khan Weight 53.0
12. WHITE RIVER 10/1
Draw (13) Trainer Brett Crawford Jockey Corne Orffer Weight 53.0
13. TILBURY FORT 25/1
Draw (20) Trainer Sean Tarry Jockey Lyle Hewitson Weight 53.0
14. YAKEEN 28/1
Draw (7) Trainer Mike de Kock Jockey Randall Simons Weight 53.0
15. MADE TO CONQUER 11/1
Draw (12) Trainer Justin Snaith Jockey Jeff Lloyd Weight 53.0
16. ROCKET COUNTDOWN 40/1
Draw (5) Trainer Candice Bass-Robinson Jockey S Randolph Weight 53.0
17. DARK MOON RISING 25/1
Draw (3) Trainer Paul Lafferty Jockey Warren Kennedy Weight 53.0
18. SECRET POTION 40/1
Draw (11) Trainer Geoff Woodruff Jockey Marco van Rensburg Weight 52.0

Reserve runners:

19. PACK LEADER
Draw (17) Trainer Glen Kotzen Weight 53.0
20. (1) CROWD PLEASER
Draw (1) Trainer Janse van Vuuren Weight 53.0
Check out a whole host of promotions for new and existing clients from our featured bookmakers below