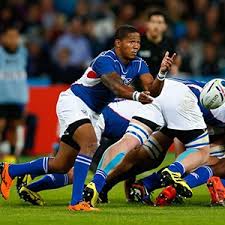 Update, match cencelled. Sunday sees the conclusion of the Rugby World Cup pool stage and the first of four matches taking place is a clash between Namibia and Canada in Kamaishi, a game both nations have targeted as an opportunity for victory.
Namibia v Canada,Sunday 13th October, Kamaishi, KO 05:15 (South African time)
Weather Forecast – Kamaishi City
Referee: Paul Williams (New Zealand)
Assistant referees: Pascal Gaüzère (France), Federico Anselmi (Argentina)
TMO: Marius Jonker (South Africa)
Subscribe to our free weekly betting mailer which will be coming out a couple of times a week during RWC and will include our best and value bets.
Namibia
Namibia have lost all 22 of their previous RWC finals matches and this is the last opportunity to break their duck in 2019. They came very close in 2015 when they went down 17-16 to Georgia and as soon as the draw was made for these finals this is the game that would have stood out.
Namibia opened their tournament against Italy, they were given 30 points start on the handicap and although they lost 47-22 punters taking the "plus" collected.
In their second outing Namibia lost 57-3 to the Springboks. The pre-match handicap was set in the high 50's so the plus was also the right call
Namibia were quoted as 70 point underdogs against New Zealand in their most recent outing and they lost 71-9. After half an hour they were just 10-9 behind, it was 17-9 at half time and although the second half was one way traffic they still managed to stay within the handicap.
Bet on the Rugby World Cup with up to R1000 in extra bets
Canada
Canada's tournament has been pretty similar to Namibia's although they have scored fewer points in their 3 matches, just 14 in total compared to Namibia's 34.
They were 20 point underdogs for their opening match against Italy which they lost 48-7.
Next time out Canada were beaten 63-0 by New Zealand although the margin of their defeat was a touch below where the handicap had been set.
In their third match Canada were beaten 66-7 by the Springboks where they were in trouble from the opening moments of the game and their task was hardly made easier when they were reduced to 14 men before half time. However they did manage a second half try, only their second of the tournament and the margin of defeat was in line with what the betting had suggested.
Canada's overall record in RWC finals comprises of 7 wins, 2 draws and 23 defeats. They are ranked 22 in the world, 1 place above Namibia.
Line Ups
Namibia: 15 Johan Tromp, 14 Leslie Klim, 13 Johan Deysel (c), 12 Darryl De La Harpe, 11 JC Greyling, 10 Cliven Loubser, 9 Eugene Jantjies, 8 Janco Venter, 7 Wian Conradie, 6 Prince Gaoseb, 5 Tjiuee Uanivi , 4 Johan Retief, 3 Johannes Coetzee, 2 Torsten van Jaarsveld, 1 Andre Rademeyer
Replacements: 16 Louis van der Westhuizen, 17 AJ De Klerk, 18 Desiderius Sethie, 19 Max Katjijeko, 20 Rohan Kitsoff, 21 Damian Stevens, 22 Helarius Axasman Kisting, 23 Chad Plato
Canada: 15 Patrick Parfrey, 14 Jeff Hassler, 13 Conor Trainor, 12 Ciaran Hearn, 11 DTH van der Merwe, 10 Peter Nelson, 9 Gordon McRorie, 8 Tyler Ardron (c), 7 Matthew Heaton, 6 Lucas Rumball, 5 Conor Keys, 4 Evan Olmstead, 3 Jake Ilnicki, 2 Eric Howard, 1 Djustice Sears-Duru
Replacements: 16 Andrew Quattrin, 17 Hubert Buydens, 18 Matthew Tierney, 19 Luke Campbell, 20 Dustin Dobravsky, 21 Jamie Mackenzie, 22 Shane O'Leary, 23 Andrew Coe
Head to Head
There have been 2 previous meetings between the teams and Canada have won both.
In RWC 1999 in Toulouse Canada won a pool stage match 72-11
In a tour match staged in Wales in 2014 Canada won 17-13
Early Betting – Match Result
Namibia 19/20
Draw 22/1
Canada 19/20
Quotes are an average of what was on offer from a selection of bookmakers at the time of writing and are subject to change.
Sportingbet, Claim your 1st deposit bonus of up to R2,000 here
Betting Angle
There has been serious money for Namibia since this tournament started and having been priced up as underdogs they have been backed into favourites. They have certainly looked better than Canada so far especially as an attacking force and I suspect that the money is spot on and will keep things simple here and go for a Namibian win.
Bet: 3 units Namibia win at 10/11 at Sportingbet
Have your own say alongside our global community of rugby punters
Not a member? Register a new forum account here
Subscribe to our Youtube channel free and get notifications of all our live stream betting shows
Subscribe to our free weekly betting mailer which will be coming out a couple of times a week during RWC and will include our best and value bets.