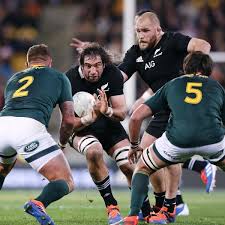 New Zealand and South Africa are the headline acts in Pool B of the 2019 Rugby World Cup, they have Italy, Canada and Namibia for company and we have a video preview from the panel and the latest betting.
R10 Free Bet : No deposit required - Register an account at Betway and they will give you a R10 free bet to place on any market of your choice
To begin with let's take in a preview from Brent Graham and the panel in this recording of the Use It Or Lose It show which is streamed live on our Youtube channel every Monday night at 21:00. This video covers Pools A and B.
New Zealand begin their quest for a third consecutive RWC title and a fourth in total. They come into the tournament as outright favourites with the bookmakers and they will open their campaign against the Springboks in a game which ought to decide who tops this pool.
The All Blacks were denied yet another Rugby Championship title this year where their results comprised of a narrow win in Argentina, a draw at home to the Boks and a defeat to the Wallabies in Australia. They did subsequently gain revnege on Australia with a 36-0 win in Auckland to retain the Bledisloe Cup and most recently they rattled up 92 points in a warm up game against Tonga.
In RWC 2015 the All Blacks came through their pool matches with a 100% record, earning bonus points in 3 of their 4 games before going on to thrash France in the quarter finals, edging out the Boks in the semi's and beating the Wallabies in the final.
South Africa will take plenty from landing their first ever Rugby Championship title. Although it was a shortened format they gained momentum from a home win over the Wallabies followed by the draw in New Zealand and held their nerve to comfortably beat Argentina away from home. Subsequent warm up games included a home win over Los Pumas and most recently a 41-7 hiding of host nation Japan, results which have seen the Boks challenge for the second favourites tag in the betting to lift the trophy.
South Africa's previous RWC titles came on home soil in 1995 and in France in 2007. In RWC 2015 they suffered a shock pool stage defeat to Japan before wins over Scotland, Samoa and USA saw them top the pool. A hard earned win over Wales in the quarter finals was followed by a semi final exit to New Zealand (20-18).
Italy will probably think the draw has done them no favours in their bid to get beyond the pool stage for the first time. They lost all of the Six Nations matches in the early part of this year and warm up results comprise of a defeat in Ireland (29-10), an 85-15 demolition of Russia in a home fixture and defeats in France (47-19) and England (37-0).
In RWC 2015 Italy finished third in their pool behind Ireland and France. They lost to both those nations and had to work hard to see off Romania and Canada.
Canada came through the Repechage qualifying route, a tournament they won after getting the better of Germany, Hong Kong and Kenya. They finished bottom of their pool in 2015, losing all 4 of their matches although they did pick up a couple of bonus points, 1 of which came from a 23-18 loss to Italy. Canada have appeared in 8 previous RWC finals and they made it to the knockout rounds back in 1991.
Namibia also came through the African qualifiers with a 100% record with Kenya their nearest challengers. They have yet to win a match at the RWC finals in five previous appearances although they came very close in 2015 when they went down 17-16 to Georgia.
Pool B To Finish Top Betting
Note odds are an average of what was available as of 06:00 on Sunday 15th September but are subject to change
New Zealand 3/10
South Africa 5/2
Italy 400/1
Canada 1000/1
Namibia 1000/1
Sportingbet, Claim your 1st deposit bonus of up to R2,000 here
Click on any of the banners on the right to open an online betting account with the bookmaker of your choice and view details of their related promotions.
Have your own say alongside our global community of rugby punters
Not a member? Register a new forum account here
Subscribe to our Youtube channel free and get notifications of all our live stream betting shows
Subscribe to our free weekly betting mailer which will be coming out a couple of times a week during RWC and will include our best and value bets.