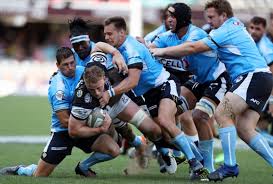 The first of this weekend's Currie Cup semi finals comes from Loftus on Friday where the defending champions the Bulls take on the Griquas.
Bulls v Griquas, Friday 17th June, Pretoria, KO 19:00 (South African time)
Referee: Griffin Colby
Assistant referees: Cwengile Jadezweni, Phumzile Mbewu
TMO: Ben Crouse
Weather Forecast – Pretoria
Bulls:
Although the Bulls have home advantage here, a 35-5 loss to Cheetahs in the final round of the regular season in Bloemfontein last week saw them lose top spot in the standings and potentially the opportunity to host the final.
First up they must get the job done against Griquas who the Bulls have already beaten twice this season, 53-27 in Kimberley in Round 5 and 48-38 at Loftus in Round 10
Aside from last week's loss in Bloem the Bulls lost away to the Cheetahs early in the tournament, a road trip to the Sharks was cancelled and declared a draw and they won all 9 of their other matches.
The Bulls are bidding for a hat trick of Currie Cup titles and they finished as runners up to the Cheetahs, just 1 point in arrears but they were 11 points better off than their opponents here. With the seniors taking on the Stormers in the URC final, the Bulls will be relying on much of the same squad who were beaten in Bloem last week.
Bulls Currie Cup Fixtures and Results
R1 Pumas (a) won 33-19, R2 WP (a) won 40-21, R3 Cheetahs (h) lost 38-25, R4 bye, R5 Griquas (a) won 53-27, R6 Sharks (h) won 35-21, R7 Lions (a) won 40-10, R8 WP (h) won 45-34, R9 Sharks (a) cancelled, R10 Griquas (h) won 48-38, R11 Lions (h) won 43-37, R12 Pumas (h) won 31-26, R13 bye, R14 Cheetahs (a) lost 35-5
Griquas:
With the Sharks losing their final match of the regular season Griquas were assured of their semi final spot by the time last week's visit to the Pumas got under way. They edged an entertaining contest 45-44, their third straight win and a fourth victory in their last 5 outings. Their stand out result came in Round 12, a 46-18 home win over the Cheetahs where they had a 4 try bonus point wrapped up inside 30 minutes.
Griquas were third in the overall standings with a record of 7 wins and 5 defeats.
Griquas Currie Cup Fixtures and Results
R1 Cheetahs (a) lost 30-20, R2 Sharks (a) lost 24-23, R3 Pumas (h) won 41-20, R4 WP (h) won 22-20, R5 Bulls (h) lost 53-27, R6 Lions (h) won 49-17, R7 bye, R8 Sharks (h) lost 13-6, R9 Lions (a) won 23-17, R10 Bulls (a) lost 48-38, R11 bye, R12 Cheetahs (h) won 46-18, R13 WP (a) won 43-41, R14 Pumas (a) won 45-44
Team News
Bulls: 15 Richard Kriel, 14 Tharquinn Manuel, 13 Lionel Mapoe, 12 Marco Jansen van Vuren, 11 Stedman Gans, 10 Juan Mostert, 9 Keagan Johannes, 8 Muller Uys, 7 Ruan Delport, 6 Jaco Labuschagne, 5 Reinhardt Ludwig, 4 Raynard Roets, 3 Jacques van Rooyen, 2 Jan-Hendrik Wessels, 1 Lizo Gqoboka (captain).
Replacements: 16 Sidney Tobias, 17 Dylan Smith, 18 Francois Klopper, 19 Willie Potgieter, 20 Stephan Smit, 21 Bernard van der Linde, 22 Niel Beukes, 23 Quewin Nortje
Griquas: 15 Ashlon Davids, 14 Munier Hartzenberg, 13 Sango Xamlashe, 12 Rynhardt Jonker, 11 Luther Obi, 10 Zander du Plessis, 9 Johan Mulder, 8 Sibabalo Qoma, 7 Hanru Sirgel, 6 Niel Otto (captain), 5 Derik Pretorius, 4 Johan Retief, 3 Janu Botha, 2 Janco Uys, 1 Kudzwai Dube.
Replacements: 16 Gustav du Rand, 17 Eddie Davids, 18 Andries Schutte, 19 Cameron Lindsay, 20 Werner Gouws, 21 Fiela Boshoff, 22 George Whitehead, 23 Christopher Hollis
Recent Head to Head
(Currie Cup)
2022 Bulls 48-38 Griquas
2022 Griquas 27-53 Bulls
2021 Bulls 56-33 Griquas
2021 Griquas cancelled Bulls
2020 Griquas cancelled Bulls
2019 Bulls 15-37 Griquas
2018 Griquas 40-45 Bulls
2017 Bulls 44-42 Griquas
2017 Griquas 45-51 Bulls
The Betting, Free R25 Sign Up Bonus. Need to open an account? Register here
Bulls -3.5 points at 9/10
Griquas +3.5 points at 9/10
Note, odds quoted are available at the time of writing but are subject to change.
Betting Angle
There has been plenty of money for the Griquas this week and the early +6.5 available is no more. I handicapped this game as Blue Bulls -2.5 and although I never got on to the handicap when it came out I did mention on the forum that I fancied the Griquas to win the game. That enthusiasm has been tempered slightly with some reinforcement to the Bulls team and the Griquas injuries, but ultimately I am going to stick with my guns and rather than take Griquas +3.5 I am going to go for them to win the game and book their spot in the final.
I will take a look at points lines closer to kick off – click here for our Rugby Forum thread where any bets will be posted and other punters share information and bets
Click here for the video preview of the match and the views of @BettingStig and @TheCroweTips
BET: 3 Units Griquas win at 13/8 at WSB
Note, odds quoted are available at the time of writing but are subject to change.
More tips, news and views are available on the weekly rugby thread on our discussion forum. If you are new to our community you can open an account here.
Subscribe to our free weekly betting mailer which will include our best and value bets below.