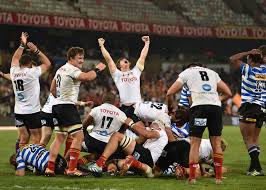 Saturday's Currie Cup semi final action comes from Bloemfontein where the Cheetahs start as favourites for their clash with the Pumas.
Cheetahs v Pumas, Saturday 18th June, Bloemfontien, KO 13:30 (South African time)
Referee: Morné Ferreira
Assistant referees: Paul Mente, Ruhan Meiring
TMO: Marius Jonker
Weather Forecast - Bloemfontein
Cheetahs:
The Cheetahs went into last week's home fixture against the Bulls needing to bridge a 4 point gap to their opponents to secure top spot in the standings and home advantage for as long as they remain in the play offs. They obliged with a 35-5 bonus point win to finish 1 point clear of the Bulls, 12 in front of the Griquas and 19 better off than the Pumas with 10 wins and 2 defeats against their name.
After winning their first 9 matches of the tournament the Cheetahs slipped up with a 46-18 defeat away to Griquas in Round 12 and they were subsequently beaten by the Pumas, 29-28 at this venue in Round 13.
Cheetahs Currie Cup Fixtures and Results
R1 Griquas (h) won 30-20, R2 bye, R3 Bulls (a) won 38-25, R4 Pumas (a) won 28-17, R5 Lions (h) won 66-14, R6 WP (h) won 24-17, R7 Sharks (a) won 29-15, R8 bye, R9 WP (a) won 28-21, R10 Lions (a) won 35-26, R11 Sharks (h) won 44-15, R12 Griquas (a) lost 46-18, R13 Pumas (h) lost 29-28, R14 Bulls (h) won 35-5
Pumas:
By the time the Pumas started last weeks 45-44 home defeat to the Griquas they were already assured of their play off place.
The Pumas finished fourth in the overall standings with a record of 5 wins and 7 defeats. The recent victory over the Cheetahs in Bloem was their stand out result but they also won away to the Lions, Western Province and the Sharks and they also ran the Bulls close at Loftus so travelling was no issue.
When the Pumas hosted the Cheetahs in Round 4 they went down 28-17.
Pumas Currie Cup Fixtures and Results
R1 Bulls (h) lost 33-19, R2 Lions (a) won 50-9, R3 Griquas (a) lost 41-20, R4 Cheetahs (h) lost 28-17, R5 Sharks (h) lost 24-10, R6 bye, R7 WP (a) won 37-11, R8 Lions (h) won 45-10, R9 bye, R10 Sharks (a) won 20-10, R11 WP (h) lost 23-17, R12 Bulls (a) lost 31-26, R13 Cheetahs (a) won 29-28, R14 Griquas (h) lost 45-44
Team News
Cheetahs: 15 Clayton Blommetjies, 14 Daniel Kasende, 13 David Brits, 12 Chris Smit, 11 Rosko Specman, 10 Siyabonga Masuku, 9 Ruan Pienaar (captain), 8 Jeandre Rudolph, 7 Aidon Davis, 6 Gideon van der Merwe, 5 Victor Sekekete, 4 Rynier Bernardo, 3 Aranos Coetzee, 2 Louis van der Westhuizen, 1 Cameron Dawson.
Replacements: 16 Marnus van der Merwe, 17 Alulutho Tshakweni, 18 Marne Coetzee, 19 Ockie Barnard, 20 Andisa Ntsila, 21 Rewan Kruger, 22 Reinhardt Fortuin, 23 Robert Ebersohn
Pumas: 15 Devon Williams, 14 Tapiwa Mafura, 13 Sebastian de Klerk, 12 Eddie Fouche, 11 Jade Stighling, 10 Tinus de Beer, 9 Chriswill September, 8 Andre Fouche, 7 Willie Engelbrecht (captain), 6 Daniel Maartens, 5 Shane Kirkwood, 4 Deon Slabbert, 3 Ignatius Prinsloo, 2 Eduan Swart, 1 Corne Fourie.
Replacements: 16 Llewellyn Classen, 17 Dewald Maritz, 18 Simon Raw, 19 Kwanda Dimaza, 20 Francois Kleinhans, 21 Giovan Snyman, 22 Ali Mgijima, 23 Alwayno Visagie
Recent Head to Head
(Currie Cup)
2022 Cheetahs 28–29 Pumas
2022 Pumas 17–28 Cheetahs
2021 Pumas 28-19 Cheetahs
2021 Cheetahs 17-16 Pumas
2020 Pumas 31-35 Cheetahs
2019 Pumas 37-43 Cheetahs
2018 Cheetahs 14-42 Pumas
2017 Cheetahs 33-32 Pumas
2017 Pumas 34-45 Cheetahs
The Betting, Free R25 Sign Up Bonus. Need to open an account? Register here
Cheetahs -10.5 points at 19/20
Pumas +10.5 points at 9/10
Note, odds quoted are available at the time of writing but are subject to change.
Betting Angle
The Cheetahs were impressive last week in beating the Bulls 35-5 in Bloemfontein and I think they are timing their run to the title perfectly after a shaky patch. The Pumas are fully deserved of their semi-final spot, but I don't think they are as strong as I have seen them in previous seasons and having originally handicapped this game Cheetahs -14.5 I am going to stick with my original instincts here and take the home team to win this one going away.
I will take a look at points lines closer to kick off – click here for our Rugby Forum thread where any bets will be posted and other punters share information and bets
Click here for the video preview of the match and the views of @BettingStig and @TheCroweTips
BET: 3 Units Cheetahs -10.5 at 19/20 at Playabets
Note, odds quoted are available at the time of writing but are subject to change.
More tips, news and views are available on the weekly rugby thread on our discussion forum. If you are new to our community you can open an account here.
Subscribe to our free weekly betting mailer which will include our best and value bets below.