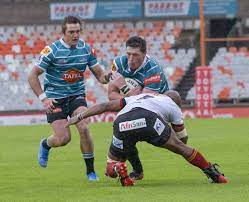 Saturday's Currie Cup final sees the Griquas clash with the Pumas in Kimberley, a huge occasion for both teams and the home side start as the bookmakers favourites.
Griquas v Pumas, Saturday 25th June, Kimberley, KO 15:00 (South African time)
Referee: Cwengile Jadezweni
Assistant Referees: Morne Ferreira, Griffin Colby
TMO: Quinton Immelman
Weather Forecast: - Kimberley
Griquas:
Griquas took on the Bulls at Loftus in last week's semi final. They were the subject of market support from punters, both on the handicap which saw them start as 3.5 point underdogs and in the match result market. That confidence was justified as they came away with a 30-19 win to give them a shout of landing a first Currie Cup title in more than 50 years.
Griquas finished the regular season third in the overall standings with a record of 7 wins and 5 defeats. They finished strongly and the semi final victory was their fourth win in succession. They edged out the Pumas 45-44 in Nelspruit in the final round of matches although by the time that game started both sides were assured of a play off spot. Back in Round 3 Griquas beat the Pumas 41-20 in Kimberley.
Griquas Currie Cup Fixtures and Results
R1 Cheetahs (a) lost 30-20, R2 Sharks (a) lost 24-23, R3 Pumas (h) won 41-20, R4 WP (h) won 22-20, R5 Bulls (h) lost 53-27, R6 Lions (h) won 49-17, R7 bye, R8 Sharks (h) lost 13-6, R9 Lions (a) won 23-17, R10 Bulls (a) lost 48-38, R11 bye, R12 Cheetahs (h) won 46-18, R13 WP (a) won 43-41, R14 Pumas (a) won 45-44, Bulls (a) won 30-19 (semi final)
Pumas:
The Pumas were 10.5 point underdogs for their semi final clash away to the Cheetahs who had topped the regular season standings. They were given 10.5 points start on the handicap and they didn't need any of it as they came out on top 38-35. They scored 6 tries to the Cheetahs 4 including one in the last minute to seal their first ever Currie Cup final appearance.
The Pumas finished fourth in the overall standings with a record of 5 wins and 7 defeats. An earlier victory over the Cheetahs in Bloem was another stand out result but they also won away to the Lions, Western Province and the Sharks and ran the Bulls close at Loftus so travelling was no issue.
Pumas Currie Cup Fixtures and Results
R1 Bulls (h) lost 33-19, R2 Lions (a) won 50-9, R3 Griquas (a) lost 41-20, R4 Cheetahs (h) lost 28-17, R5 Sharks (h) lost 24-10, R6 bye, R7 WP (a) won 37-11, R8 Lions (h) won 45-10, R9 bye, R10 Sharks (a) won 20-10, R11 WP (h) lost 23-17, R12 Bulls (a) lost 31-26, R13 Cheetahs (a) won 29-28, R14 Griquas (h) lost 45-44, Cheetahs (a) won 38-35 (semi final)
Team News
Griquas: 15 George Whitehead, 14 Munier Hartzenberg, 13 Sango Xamlashe (Captain), 12 Rynhardt Jonker, 11 Luther Obi, 10 Alex-Zander du Plessis, 9 Stefan Ungerer, 8 Sibabalo Qoma, 7 Hanru Sirgel, 6 Werner Gouws, 5 Derik Pretorius, 4 Cameron Lindsay, 3 Janu Botha, 2 Janco Uys, 1 Kudzwai Dube.
Replacements: 16 Simon Westraadt, 17 Eddie Davids, 18 Andries Schutte, 19 Johan Retief, 20 Michael Amiras, 21 Johan Mulder , 22 Theo Boshoff, 23 Christopher Hollis
Pumas: 15 Devon Williams, 14 Tapiwa Mafura, 13 Sebastian de Klerk, 12 Eddie Fouche, 11 Jade Stighling, 10 Tinus de Beer, 9 Chriswill September, 8 Andre Fouche, 7 Willie Engelbrecht (captain), 6 Daniel Maartens, 5 Shane Kirkwood, 4 Deon Slabbert, 3 Ignatius Prinsloo, 2 Eduan Swart, 1 Corne Fourie.
Replacements: 16 Llewellyn Classen, 17 Dewald Maritz, 18 Simon Raw, 19 Kwanda Dimaza, 20 Francois Kleinhans, 21 Giovan Snyman, 22 Ali Mgijima, 23 Alwayno Visagie
Recent Head to Head
(Currie Cup)
2022 Pumas 44–45 Griquas
2022 Griquas 41-20 Pumas
2021 Griquas 13-13 Pumas
2021 Pumas 26-22 Griquas
2020 Pumas 22-17 Griquas
2019 Griquas 37-29 Pumas
2018 Pumas 42-19 Griquas
2017 Pumas 35-38 Griquas
2017 Griquas 21-27 Pumas
The Betting, Free R25 Sign Up Bonus. Need to open an account? Register here
Griquas -5.5 points at 9/10
Pumas +5.5 points at 9/10
Note, odds quoted are available at the time of writing but are subject to change.
Betting Angle
I handicapped this game at Griquas -6.5 and there was -4.5 Griquas and +6.5 Pumas early doors with the line currently settled (Friday morning) at 5.5. If anything I am leaning slightly to the Griquas as have been very impressed with some of their recent performances especially their home win over the Cheetahs a few weeks back. The Pumas will be well up for this but I think overall the home team has the edge.
I am waiting for the points lines before getting involved though and it is going to be interesting to see where the booies come out. No bet for me until we see those lines and if you want a hint as to where I am leaning get the view of @HanrickSwart a.k.a "The Understaker" on last nights THE HANDICAP our rugby betting show
Update: 09h45 25 June
The points lines are out and are within a point of Hanricks prediction at 53.5. There was some rain in Kimberley earlier in the week although today looks likely to be cool and clear.
I suspect both teams will take the 3 points when they get the chance today and that has me slightly nervous on points and the bet I prefer is at this point only available at Sportingbet - they go 8/10 under 7.5 tries and I think there is better value in that than under 53.5 points or put another way if the under 7.5 tries loses I expect the points to be 54 or more whereas I could see points over 53.5 but the under 7.5 tries still landing.
Bet: 5 units under 7.5 tries at 8/10 at Sportingbet
Note, odds quoted are available at the time of writing but are subject to change.
More tips, news and views are available on the weekly rugby thread on our discussion forum. If you are new to our community you can open an account here.
Subscribe to our free weekly betting mailer which will include our best and value bets below.