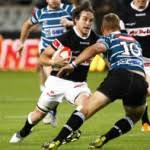 The first of this weekend's Currie Cup matches comes from Nelspruit on Friday night where the Pumas host the Griquas and the visitors are still looking for a first win of the season.
Pumas v Griquas, Friday 4th December, Nelspruit, KO 19:00 (South African time)
Referee: Stuart Berry
Assistant referees: Paul Mente, Morne Ferreira
TMO: Willie Vos
Weather Forecast - Nelspruit
Pumas:
The Pumas Currie Cup campaign started with a heavy defeat to the Sharks in Durban last week. They were beaten 45-10 and the game was over early as the Sharks ran in 5 first half tries to lead 31-3 before they took their foot off the pedal.
The Pumas SRU record comprised of 1 win, 1 draw (from a cancelled game against the Lions) and 4 defeats. Their only win came away to Griquas in Round 2 but they also gave the Stormers a huge scare in a home game, leading 30-14 at half time before a late surge saw the Stormers get up 42-37 at the death.
The Pumas will play 4 of their 5 remaining Currie Cup matches on home turf and they come into the round with 7 log points, 3 better off than the Griquas who are the only side below them in the standings.
Pumas SRU Results
R1 Cheetahs (a) lost 53-31, R2 Griquas (a) won 27-21, R3 Stormers (h) lost 37-42, R4 Sharks (h) lost 42-19, R5 bye, R6 Lions (a) postponed, R7 Bulls (a) lost 21-5.
Pumas Currie Cup Fixtures and Results
Sharks (a) lost 45-10, Griquas (h), Western Province (a), Cheetahs (h), bye, Lions (h), Bulls (h)
Griquas:
The Griquas hosted the Lions last week and only 47 minutes were possible before a lightning threat saw the game finished with the Lions ahead 20-17 on the scoreboard and the result stands. Griquas, who were double digit underdogs, had started the game really well and led 17-3 at one stage in the first half but they were overhauled just before play was halted.
Last week's near miss still leaves the Griquas without a win this season. Of their 6 defeats in the recently concluded Super Rugby Unlocked losing bonus points were earned in 3 matches, away to the Bulls, home to the Pumas and also when hosting the Sharks where they lost by a single point with the Sharks landing a decisive score with a penalty at the death.
Griquas SRU Results
R1 Bulls (a) lost 30-23, R2 Pumas (h) lost 27-21, R3 bye, R4 Lions (a) lost 61-31, R5 Stormers (h) lost 39-6, R6 Sharks (h) lost 34-33, R7 Cheetahs (a) lost 28-9.
Griquas Currie Cup Fixtures and Results
Lions (h) lost 20-17 (only 47 mins played), Pumas (a), bye, Bulls (h), Western Province (a), Sharks (a), Cheetahs (h)
Team News
Pumas: 15 Tapiwa Mafura, 14 Luther Obi, 13 Erich Cronje, 12 Ali Mgijima, 11 Etienne Taljaard, 10 Devon Williams, 9 Ginter Smuts, 8 Willim Engelbrecht, 7 Darrien Landsberg, 6 Phumzile Maqondwana, 5 Pieter Jansen van Vuren (captain), 4 Le Roux Roets, 3 Ruan Kramer, 2 Simon Westraadt, 1 Dewald Maritz.
Replacements: 16 Marko Janse van Rensburg, 17 Ignatius Prinsloo, 18 Brandon Valentyn, 19 Daniel Maartens, 20 Chriswill September, 21 Tiaan Botes, 22 Wayne van Bank, 23 Liam Hendriks
Griquas: 15 James Verity-Amm, 14 Daniel Kasende, 13 Berton Klaasen, 12 Johnathan Francke, 11 Eduan Keyter, 10 Tinus de Beer, 9 Zak Burger (captain), 8 Johan Momsen, 7 Stefan Willemse, 6 Cyril Velleman, 5 Cameron Lindsay, 4 Adre Smith, 3 Ewald van der Westhuizen, 2 Hendrick Luus, 1 Nqobisizwe Mxoli.
Replacements – from: 16 Monde Hadebe, 17 Andrew Beerwinkel, 18 John-Roy Jenkinson, 19 Mzwanele Zito, 20 Carl Els, 21 Theo Maree, 22 Andre Swarts, 23 Enver Brandt, 24 Zandre Jordaan, 25 Ewan Coetzee, 26 Ashlon Davids.
Recent Head to Head
2020 Griquas 21-27 Pumas (SRU)
Currie Cup
2019 Griquas 37-29 Pumas
2018 Pumas 42-19 Griquas
2017 Pumas 35-38 Griquas
2017 Griquas 21-27 Pumas
2016 Pumas 35-41 Griquas
2015 Griquas 32-15 Pumas
2014 Griquas 31-27 Pumas
2014 Pumas 33-15 Griquas
The Betting,
Pumas +2.5 points at 9/10
Griquas -2.5 points at 9/10
Note, odds quoted are available at the time of writing but are subject to change.
Betting Angle
There has been significant betting movement with the Pumas opening -3.5 however things have steadied at the curent line of Pumas +2.5. I am in the Griquas camp and am looking to De Beer to boss the match with his boot.
My main interest will be on the points lines (watch our forum for more) but for now a straight win bet on Griquas
Bet: 5 units (of 10) Griquas win at 0.76/1 at Betway
Subscribe to our free weekly betting mailer which will include our best and value bets below.