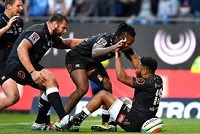 The Currie Cup gets underway this weekend and the first clash sees the Sharks host the Pumas in Durban on Friday night.
Sharks v Pumas, Friday 27th November, Durban, KO 19:00 (South African time)
Referee: Rasta Rasivhenge
Assistant referees: Cwengile Jadezweni, Paul Mente
TMO: Marius Jonker
Weather Forecast – Durban
Sharks:
The Sharks finished Super Rugby Unlocked in third place in the standings, level on points with the Stormers who had a better points difference and 4 points behind the Bulls. Their record comprised of 4 wins, 1 defeat and last week's cancelled game against the Stormers which was due to take place in Durban.
The Sharks only defeat in SRU came away to the Bulls where they were thrashed 41-14 whilst 2 home games delivered narrow wins over the Lions and the Cheetahs.
One of the Sharks better performances came against the Pumas in Nelspruit where they came out on top 42-19, scoring 6 tries to 3 to earn a bonus point and cover a minus handicap which had been set at around 10.5 points.
Sharks SRU Results
R1 Lions (h) won 19-16, R2, bye, R3 Bulls (a) lost 41-14, R4 Pumas (a) won 42-19, R5 Cheetahs (h) won 19-13, R6 Griquas (a) won 34-33, R7 Stormers (h) cancelled.
Sharks Currie Cup Fixtures and Results
Pumas (h), bye, Bulls (h), Lions (a), Cheetahs (a), Griquas (h), Western Province (a),
Pumas:
The Pumas SRU record comprised of 1 win, 1 draw (from a cancelled game against the Lions) and 4 defeats. In the final round last weekend they were beaten 21-5 by the Bulls but they delivered for plus handicap backers.
Their only win came away to Griquas in Round 2 but they also gave the Stormers a huge scare in a home game, leading 30-14 at half time before a late surge saw the Stormers get up 42-37 at the death.
The Pumas will play 4 of their 6 Currie Cup matches on home turf.
Pumas SRU Results
R1 Cheetahs (a) lost 53-31, R2 Griquas (a) won 27-21, R3 Stormers (h) lost 37-42, R4 Sharks (h) lost 42-19, R5 bye, R6 Lions (a) postponed, R7 Bulls (a) lost 21-5.
Pumas Currie Cup Fixtures and Results
Sharks (a), Griquas (h), Western Province (a), Cheetahs (h), bye, Lions (h), Bulls (h)
Team News
Sharks: 15 Manie Libbok, 14 Yaw Penxe, 13 Jeremy Ward (captain), 12 Marius Louw, 11 Madosh Tambwe, 10 Curwin Bosch, 9 Sanele Nohamba, 8 Thembelani Bholi, 7 JJ van der Mescht, 6 Dylan Richardson, 5 Hyron Andrews, 4 Ruben van Heerden, 3 Thomas du Toit, 2 Kerron van Vuuren, 1 Ox Nche.
Replacements: 16 Daniel Jooste, 17 Khwezi Mona, 18 Hanro Jacobs, 19 Zain Davids, 20 Sikhumbuzo Notshe, 21 Cameron Wright, 22 Werner Kok, 23 Sbu Nkosi
Pumas: 15 Devon Williams, 14 Morné Joubert, 13 Erich Cronjé, 12 Ali Mgijima, 11 Etienne Taljaard, 10 Theo Boshoff, 9 Ginter Smuts, 8 Francois Kleinhans, 7 Phumzile Maqondwana, 6 Daniel Maartens, 5 Pieter Janse van Vuren (captain), 4 Darrien Landsberg, 3 Ruan Kramer, 2 Hendrik van Schoor, 1 Liam Hendriks.
Replacements: 16 Marko Janse van Rensburg, 17 Wikus Groenewald, 18 Brandon Valentyn, 19 Heath Backhouse, 20 Chriswill September, 21 Wayne van der Bank, 22 Tapiwa Mafura, 23 Dewald Maritz
Recent Head to Head
2020 Pumas 19-42 Sharks (SRU)
2019 Pumas 27-20 Sharks
2018 Sharks 28-12 Pumas
2017 Pumas 25-27 Sharks
2017 Sharks 29-0 Pumas
2016 Pumas 10-33 Sharks
2015 Sharks 27-26 Pumas
2015 Pumas 33-24 Sharks
The Betting,
Sharks -16.5 points at 9/10
Pumas +18.5 points at 9/10
Note, odds quoted are available at the time of writing but are subject to change.
Betting Angle
There has been money for the Pumas who opened +20.5 and this is mainly on the back of team news with the Sharks hard hit by Aunty Rona. I can't back the Pumas with any confidence though.
On last nights rugby betting show THE HANDICAP both @ThoughtsOnSports and @HanrickSwart were strong on u50.5 points in Durban. Humidity levels are high this time of year and there is some rain about and a scrappy affair is on the cards.
Bet: 3 units (of 5) under 50.5 points at 9/10 at WSB
Subscribe to our free weekly betting mailer which will include our best and value bets below.