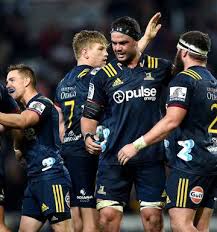 Round 4 of Super Rugby kicks off with a New Zealand Conference derby between the Crusaders and the Highlanders which takes place in Christchurch on Friday.
Crusaders v Highlanders, Friday 21st February, Christchurch, KO 08:05 (South African time)
Referee: Mike Fraser
Assistant Refs: Brendon Pickerill, James Doleman
TMO: Chris Hart
Weather Forecast - Christchurch
Crusaders:
The Crusaders saw off the Blues 25-8 in Auckland last week and their start to the campaign now comprises of 2 wins and 1 defeat. The Saders easily covered last week's handicap which had been set early at 7.5 points. In doing so they bounced back from a Round 2 defeat at the Chiefs (25-15) in Hamilton, a game they had started as favourites.
This will be the second home game of the season for the defending champions although the first was staged in Nelson and it delivered a 43-25 bonus point win over the Waratahs. After 3 rounds of matches the Saders are second in the NZ Conference, 4 points behind the Chiefs and 1 better off than the Hurricanes.
Bet on Live Roulette, SA's first online live roulette games
Highlanders:
The Highlanders put themselves on the board in Round 3 when they edged out the Brumbies 23-22 in Canberra. They were given a 5.5 point start on the handicap and ended up snapping the Brumbies 10 match unbeaten run on home turf. That was a marked improvement by the Landers who had sat out Round 1 before suffering a 42-20 home defeat to the Sharks a week later. They started 7.5 point favourites in that game so the early trend in their matches this season has favoured punters taking the plus.
This will be the first NZ derby of 2020 for the Highlanders who won only twice against local rivals last season alongside 2 draws and 5 defeats. They lost twice against the Saders in Christchurch in 2019, 43-17 in Round 9 and 38-14 in the first play off round. The scheduled game in Dunedin last season was cancelled and reflects as a 0-0 draw in the record books.
The Highlanders last win over the Saders in Christchurch came back in 2015.
Bet on Live Roulette, SA's first online live roulette games
Team News
Crusaders: 15 David Havili (captain), 14 Sevu Reece, 13 Braydon Ennor, 12 Jack Goodhue, 11 George Bridge, 10 Richie Mo'unga, 9 Bryn Hall, 8 Tom Sanders, 7 Tom Christie, 6 Cullen Grace, 5 Mitchell Dunshea, 4 Luke Romano, 3 Michael Alaalatoa, 2 Codie Taylor, 1 Joe Moody
Substitutes: 16 Andrew Makalio, 17 Isi Tu'ungafasi, 18 George Bower, 19 Ethan Roots, 20 Sione Havili, 21 Michell Drummond, 22 Brett Cameron, 23 Leicester Fainga'anuku
Highlanders: 15 Michael Collins, 14 Kirisi Kuridrani, 13 Rob Thompson, 12 Josh Ioane, 11 Jona Nareki, 10 Mitch Hunt, 9 Aaron Smith, 8 Marino Mikaele-Tu'u, 7 James Lentjes (captain), 6 Shannon Frizell, 5 Josh Dickson, 4 Jesse Parete, 3 Siate Tokolahi, 2 Liam Coltman, 1 Ayden Johnstone
Substitutes: 16 Ash Dixon, 17 Daniel Lienert-Brown, 18 Conan O'Donnell, 19 Jack Whetton, 20 Teariki Ben-Nicholas, 21 Kayne Hammington, 22 Teihorangi Walden, 23 Josh McKay
Join today and we'll give you a R25 Sign Up Bet to bet on soccer, cricket, rugby or any of the 1,000s of other exciting matches on offer. Don't miss your chance, this offer is only available for a limited time
Recent Head to Head (any venue)
2019 Christchurch Crusaders 38-14 Highlanders (Tries 5-2) (play off)
2019 Christchurch Crusaders 43-17 Highlanders (Tries 6-2)
2019 Dunedin Cancelled (Both sides awarded 2 log points)
2018 Christchurch Crusaders 45-22 Highlanders (Tries 5-3)
2018 Dunedin Highlanders 25-17 Crusaders (Tries 3-2)
2017 Christchurch Crusaders 17-0 Highlanders (Tries 2-0) (play off)
2017 Christchurch Crusaders 25-22 Highlanders (Tries 3-3)
2017 Dunedin Highlanders 27-30 Crusaders (Tries 3-4)
2016 Dunedin Highlanders 34-26 Crusaders (Tries 5-2)
2015 Christchurch Crusaders 20-25 Highlanders (Tries 2-3)
2015 Dunedin Highlanders 20-26 Crusaders (Tries 2-2)
The Betting,
Need to open an account? Claim your 1st deposit bonus of up to R2,000 here
Handicap
Crusaders -15.5 at 9/10 at Betxchange
Highlanders +17.5 at 9/10 at Hollywood
Note: Odds quoted are subject to change
Betting Angle
This handicap is very close to where I set it (-14.5) during my weekly Sunday handicapping exercise and the line has continued to shift out all week.
Despite their last gasp win over the Brumbies the Highlanders have yet to impress while the Crusaders beat the Blues by 17 points on the road.
The stat which jumps out here is that the Crusaders would have beaten this handicap at home against the Highlanders the last 4 renewals with the winning margins being 24, 26, 23 and 17.
BET: 4 units Crusaders -15.5 at 9/10 at Betxchange
Subscribe to our free weekly betting mailer which will include our best and value bets below.