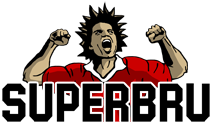 Ahead of the 2019 Super Rugby season you are most welcome to join our Superbru Predictor Pool. It's free to enter, fun to play with prizes for each round and the overall tournament.
Super Rugby 2019 Coverage on Goodforthegame
We will of course be providing our trademark betting previews for every match of the tournament with weather forecasts, team line ups, officials, form and head to head history.
Watch out for our weekly rugby betting show "The Handicap" which is streamed live on our youtube channel. You can subscribe to the channel for free so you can receive notifications of when each show is about to go on air and a recording is available on Goodforthegme immediately afterwards.
Remember you can also have your own say on our discussion forum where a group of the sharpest rugby punting brains congregate to add their thoughts on the outrights and each round of matches as soon as the markets are available.
Details of our prize structure will be announced over the next few days but you can join the pool right now before the first round of fixtures gets underway on Friday 15th February.
Join the Pool
Our pool which is now named "World Sports Betting" and they have confirmed the following betting voucher prizes
1st R2000 2nd R1000 3rd R500 4th R200 5th-10th R100
Yellow Cap - R200
Open an account at World Sports Betting and get a R10k matched deposit bonus
If you are keen to play SuperBru for money join my R500 Buy-In pool "Putyourmoneywhereyourmouthis" by clicking here
Please take note of the rules below and remember to look out for the trademark Goodforthegame betting previews on the upcoming Super Rugby tournament.
Rules of Engagement for Goodforthegame SuperBru Competitions
We run a host of competitions on SuperBru with some great prizes. Join the Goodforthegame club as it guarantees you will get invited to every pool and won't miss out on any of the action.
Below some of the general rules of the Goodforthegame SuperBru competitions. Goodforthegame reserve the right to change these at our own discretion.
No multiple entries allowed – 1 entry per player only
All cash prizes to be paid to a South African bank account
To claim a betting voucher you must be at least 18 years old
To claim a betting voucher you must be able to open an account with the relevant bookmaker
Betting voucher prizes are not transferable
We will endeavour to contact prize winners through BruMail however should you not receive a BruMail you will be informed of your win in the newsletter
In the event of a tie prizes will be split
If prizes are not claimed within 4 weeks from notification they will expire
T&C's of the relevant bookmaker will apply to vouchers
Good luck and thanks for playing.
GFTG Team

Remember you can have your own say on all this week's matches on our discussion forum