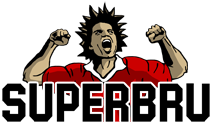 We are running two Superbru competitions this Rugby World Cup, one of which is free to enter and the other one where we put money in with all proceeds redistributed as prizes.
Click here to subscribe to our free weekly betting mailer which will be coming out a couple of times a week during RWC and will include our best and value bets.
Note, Goodforthegame Superbru Competition Rules Apply, Full details of the rules are available here
WORLD SPORTS BETTING POOL
World Sports Betting have supported many of our Superbru pools over the years and have once again come to the party with over R5000 worth of betting vouchers up for grabs. This pool is 100% free to play and the prize split is as follows:
1st Place: R1000 voucher
2nd Place: R500 voucher
3rd Place: R300 voucher
4th to 10th: R200 voucher
11-20th: R100 voucher
Yellow Cap: R200 voucher
Click here to enter the World Sports Betting Pool
WSB, Claim your 1st deposit bonus of up to R10,000 here
PUTYOURMONEYWHEREYOURMOUTHIS
Are you looking for a little bit of extra excitement in your Rugby World Cup then join our pay to play pool where we all put in R500 and the prize money is split at the end of the competition. The final split of the prizes is only done once we have the confirmed field and all players have paid up, but as a rule 50% of the pot goes to the winner (for example our Super Rugby winner won R13500 and there was R27500 in the pot) and we usually pay out 10% of the pool so even coming 10th in a pool of a 100 you are likely to double your money.
Some of rugby's finest betting minds are playing in this pool, but interestingly enough betting form and Superbru form are seldom correlated.
Join this pool now by clicking here and be sure to invite like-minded mates. Banking details are on the Superbru page and email This email address is being protected from spambots. You need JavaScript enabled to view it. with proof of payment so you can be accepted into the pool.
Let's make this the biggest Superbru "Pay to Play Pool" of them all.
Keep a close eye on Goodforthegame for previews of each and every match of the Rugby World Cup and our Forum Thread for the opening 7 fixtures is up and running. We also have a long term thread where punters have been posting their bets for the last couple of months, there is bound to be plenty of action this week.