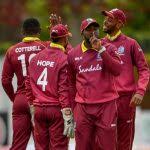 Couch Critic previews the third T20 between Ireland and South Africa, the second ODI between West Indies and Australia and the third ODI between Sri Lanka and India including his best bets with @Olimp_SA
We are very much in the middle of cricket season it seems and there is plenty of international action to pick from. Here are some of my thoughts for the days ahead.
IRELAND vs SOUTH AFRICA 2nd T20I– Thu 22 Jul @ 17:00, Belfast
After a bulldozing display by De Kock and Malan in the third ODI it was back to the brittle SA batting line-up we've all lost sleep about in recent years. The TLB traded places with that fragile second-hand Tata bakkie as the Proteas required a RaLara finish to get them to a somewhat decent total. Fortunately for the Proteas their bowlers were tuned in. Linde, Rabada and Ngidi struck early and left Shamsi to read the last rights with another bamboozling display of his wizardry.
I feel there is some value with Tector lower down the order for the home side whilst Simi Singh put in a good shift in the first T20. The likes of De Kock or Bavuma might be fancied to deliver a match winning effort at the top of the order but I feel there is a touch of value about an all-round effort from Linde should SA bat first.
Top Ireland Bowler: Simi Singh @ 5.00
Top Ireland Batsman: H Tector @ 7.00
Man of the Match: G Linde @ 21.00
WEST INDIES vs AUSTRALIA 2nd ODI – Thu 22 July @ 20:30, Bridgetown
The Windies enjoyed themselves in the shortest format, cruising to a 4-1 series victory. With the Aussies missing many of their 50-over batting stalwarts the home side will fancy their chances of continuing their T20 success in this series as well, however without some of their recent and more historic performers with both bat and ball not available they came up short in the opener.
The hosts will need to find an answer for the Starc-Hazlewood new ball pair confronting them as clearly their batsmen weren't up to the task in the first game. Leg-spinner Walsh continued his impressive form and I have to be on board this train for this outing. Marsh missed out with the willow in the first ODI but he's been one of the form batsmen in the Aussie ranks and he also has the potential to add a contribution with the ball.
Top Windies Bowler: HR Walsh @ 3.75
Man of the Match: M Marsh @ 8.00
SRI LANKA vs INDIA – Fri 23 Jul @ 11:30, Colombo
Poor Mickey Arthur almost blew a gasket on Monday as he's Sri Lankans came within touching distance of victory only to squander their opportunity of the "W". Having fluffed their chance at success one wonders whether the home side will approach this third ODI with more confidence knowing that they should have won or do they stumble into this one with the a disappointment hangover…
I've liked what I've seen from Fernando at the top for Sir Lanka and Arthur and his side will hope to see the opener take a start and go big on this occasion. Manish Pandey looked at ease at the wicket before his run-out so I am happy showing some faith in him here. Lastly, Krunal has bowled tidily and if the visitors bat first he could also add a few runs to his match efforts.
Top India Batsman: Avishka Fernando @ 4.50
Top India Batsman: M Pandey @ 5.50
Man of the Match: KH Pandya @ 15.00
Note, odds quoted are available at the time of writing but are subject to change
Claim your 1st deposit bonus up to R3,000 here
Click here for details of our all current promotions