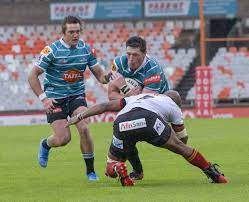 The Griquas host the Cheetahs in the Currie Cup in Kimberley on Saturday, a first outing of the tournament for the visitors whilst the home side who are favourites in the early betting.
Griquas v Cheetahs, Saturday 26th June, Kimberley, KO 13:00 (South African time)
Referee: AJ Jacobs
Assistant referees: Local
TMO: Cwengile Jadezweni
Weather Forecast: - Kimberley
Griquas:
Griquas were the only side to go through the whole of the last Super Rugby Unlocked and Currie Cup season without a victory and they lost their opening match of this season's tournament at home to the Sharks 30-16 last week.
Griquas were given a start of around 7.5 points on the pre-match handicap for last week's game and they were 10-6 down at half time. Eduan Keyter and Daniel Kasende scored Griquas tries and although they stuck to the task in hand they were unable to deny the Sharks a bonus point win.
Griquas Currie Cup Fixtures and Results
Sharks (h) lost 30-16, Cheetahs (h) Pumas (a) WP (a) Bulls (h) Lions (a) Sharks (a) Lions (h) Bulls (a) Cheetahs (a) WP (h) Pumas (h)
Cheetahs:
The Cheetahs sat out the opening round and they will be looking for a better showing than last season when they missed out on the Currie Cup play offs, finishing fifth on the combined SRU / Currie Cup log with a record of 6 wins, 8 defeats and 1 game was cancelled. Currie Cup 2020/21 form comprised of 3 wins and 3 defeats.
Last season's Currie Cup clash against the Griquas was staged in Kimberley in Round 7 and the Cheetahs edged it 22-18.
Cheetahs Currie Cup Fixtures and Results
Griquas (a), Bulls (h), Pumas (h), Lions (a), WP (h), Sharks (h), WP (a), Lions (h), Sharks (a), Griquas (h), Pumas (a), Bulls (a)
Team News
Griquas: 15 Masixole Banda, 14 Daniel Kasende, 13 Jay-Cee Nel, 12 Andre Swarts, 11 Eduan Keyter, 10 George Whitehead, 9 Stefan Ungerer (captain), 8 Hanru Sirgel, 7 Sibabalo Qoma, 6 Gideon van der Merwe, 5 Cameron Lindsay, 4 Jeandre Leonard, 3 Ewald van der Westhuizen, 2 Janco Uys, 1 Andrew Beerwinkel.
Replacements – from: 16 HJ Luus, 17 Andrew Kuhn, 18 Janu Botha, 19 Mzwanele Zito, 20 Henco Beukes, 21 Raegan Oranje, 22 Theo Boshoff, 23 Ederies Arendse, 24 Ashlon Davids, 25 Enver Brandt, 26 Tijde Visser
Cheetahs: 15 Clayton Blommetjies, 14 Duncan Saal, 13 Evardi Boshoff, 12 Howard Mnisi, 11 Tian Meyer, 10 Reinhardt Fortuin, 9 Ruan Pienaar (captain), 8 Gideon van Wyk, 7 Jacques Potgieter, 6 Jean Droste, 5 Rynier Bernardo, 4 Victor Sekekete, 3 Aranos Coetzee, 2 Wilmar Arnoldi, 1 Cameron Dawson.
Replacements: 16 Janus Venter, 17 Aluluthu Tshakweni, 18 Hencus van Wyk, 19 Reinier Viljoen, 20 Luan Potgieter, 21 Mihlali Mosi, 22 David Brits, 23 Cohen Jasper
Recent Head to Head
2020/21 Griquas 18-22 Cheetahs
2019 Cheetahs 68-14 Griquas
2018 Griquas 52-24 Cheetahs
2017 Griquas 59-24 Cheetahs
2017 Cheetahs 25-30 Griquas
2016 Cheetahs 63-26 Griquas
2015 Cheetahs 44–24 Griquas
2015 Griquas 9-31 Cheetahs
The Betting,
Griquas 1/1 at Hollywood
Cheetahs +1.5 points at 9/10
Note, odds quoted are available at the time of writing but are subject to change.
Betting Angle
The line has moved from +4.5 to a choice game after the team announcement and as I was pondering a bet I got a tweet from @Oloff17 saying there could be more bad news for the Cheetahs due to Covid. Griquas have started shortening to favourites on some books and I suspect they could start 3-4 point favourites so the 1/1 still on offer is calling my name.
Bet: 6 units Griquas at 1/1 at Hollywoodbets
Subscribe to our free weekly betting mailer which will include our best and value bets below.