Details

Written by

@HDCouchCritic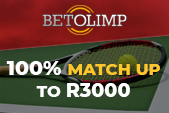 February is upon us and that brings about a few certainties of life as a South African:
Details

Written by

Administrator

Having successfully come through a weekend without any sport and by definition without any betting, I have been watching the behaviour of some of my fellow punters as they look for alternative outlets for their disposable income.
Last week I mentioned the advent of Betgames and Lotto Numbers, but the market with the closest correlation to Sports Betting is probably E-Sports.
Popping onto the World Sports Betting Website there are a host of E-Sports listed many of which are absolutely Greek to me. I do recognize the top one on the list though, namely "Call of Duty" as my teenage son has played it on occasion.
The next Call of Duty Tournament is in Dallas on 28 March and Dallas Empire are priced at 7/4 favourites with the Chicago Huntsmen 2/1 and you can get 11/2 and better about the balance. I have, of course, absolutely no clue as to the form heading into this event, and it may well be prudent to spend some more time with my son as he plays his X-Box.
To find out more about E-Sports Betting and to see whether there has been growth post COVID-19 I made contact with the Marketing Director at World Sports Betting, Ryno Du Plessis who advised that "E-Sports has been a growing betting sport for a while now and although the growth has been slower in SA than other countries, there has been a telling migration as the Generation Y kids enter the working market and start earning more disposable income. With the COVID-19 pandemic, E-Sports suddenly finds itself at the forefront though and we are seeing an increasing number of bets on these sports by patrons who would not have been betting E-Sports a couple of weeks ago".
I have long suspected that E-Sports is the market of the future, but never really had the inclination to get involved, but it looks as though the time may well be ripe though.
This will likely be my last article for a while as we enter the lock down (it is of course meant to be a sports betting piece) and I wish all of the Citizen readers and regulars to this column a safe and trouble free isolation period and I cannot wait until we are back talking about and betting on top class domestic and international sport.
Twitter: @BrentGraham.
This article was written for the CitiGaming supplement of the Citizen Newspaper and was published on the 26 March 2020.
Brent Graham is a blogger on www.goodforthegame.co.za and sends a free weekly e-mail list just CLICK HERE to register
Details

Written by

Administrator

I put a post out on Facebook last week that I would be summonsing all my will power and would be giving up Sports Betting for a few weeks. There was a wide range of reactions with most people asking if this was a cry for help and I had perhaps been kidnapped, while others commended me on having the discipline to make this move.
Details

Written by

Administrator

The Summer Cup is one of four Horse Races I get excited for each year with the others being the Durban July, J & B Met and Queens Plate.