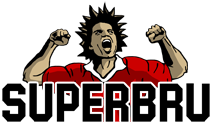 We run a host of competitions on SuperBru with some great prizes.Join the Goodforthegame club as it guarantees you will get invited to every pool and won't miss out on any of the action.
Below some of the general rules of the Goodforthegame SuperBru competitions. Goodforthegame reserve the right to change these at our own discretion.
No multiple entries allowed – 1 entry per player only
All cash prizes to be paid to a South African bank account
To claim a betting voucher you must be at least 18 years old
To claim a betting voucher you must be able to open an account with the relevant bookmaker
Betting voucher prizes are not transferable
We will endeavour to contact prize winners through BruMail however should you not receive a BruMail you will be informed of your win in the newsletter
In the event of a tie prizes will be split
If prizes are not claimed within 4 weeks from notification they will expire
Many thanks for playing and good luck..!!
GFTG Team