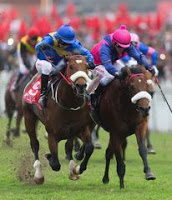 The Vodacom Durban July will be run at Greyville Racecourse, Durban on Saturday and ahead of the big race Ou Ryperd has stepped up and offered his pen pics for every runner.
Ou Ryperd is an experienced campaigner who is not short of a sense of humour so if he has brassed your personal favourite in the pen pics below, please take it in good spirit and don't be offended.
The July is Race 7 on the card, due off at 15:00. If you don't have an online betting account you can open one by clicking on any of the banners on this page, do not delay as new accounts can take time to set up. A number of bookmakers are offering promotions specific to the July, feel free to shop around.
VDJ Hollywoodbets Punters' Challenge
There is a massive R100 000 to be given away in the Vodacom Durban July edition of the Hollywoodbets Punters Challenge, with the player who places first set to bag R50 000! Additionally, there is R1 125 000 up for grabs for the player/s who can correctly tip the whole card! Need to open an account? Register here
To celebrate the Durban July, get a 15% bonus on ALL deposits made with Hollywoodbets between 24 June – 4 July 2021 (T&C's apply). Open an account here
Durban July, runners, riders, latest odds, video preview, betting tips and FREE BET and BONUS offers
Approximate odds quoted are subject to change
Rainbow Bridge 6/1
Champion racehorse that has won everything worth winning besides the July and returns for his third crack at the crown. He has been unlucky in both previous attempts, runner-up to Do It Again in 2018 and a poor ride last year saw him finish 2 lengths off Belgarion giving 7kgs. His build up to the July has been impeccable, winning 3 of his last 4 races. He has formed a formidable partnership with Cool Hand Luke Ferraris. Attempts to be the first horse to do the Met/July double in the same year since the Rinderpest swept through the old Transvaal. Drawn 1 and will be a strong contender with luck in running. Against him is top weight and some concerns that he just doesn't get the distance.
Verdict – Quartet chance with a realistic chance of winning
Johnny Hero 75/1
Extremely optimistic entry who secured his berth in the race by winning a soupmeat out of season handicap in Joburg off bottom weight. Has been beaten double figures by Got the Greenlight at level weights, and will finish a similar distance behind the July. There are question marks about the distance, in fact there are questions about how this could make the final field.
Verdict – Has a better chance of finishing last and will be a moving traffic violation in the race. This is no Smanjemanje
Shah Akbar 50/1
Two time winner from the powerful Tarry yard. His claim to fame has been running behind Malmoos and a close up 4th to Linebacker in the Daily News. He may serve the purpose of setting a good pace because that's the only positive thing that can be said of this optimistic entry. Well held by the more fancied Cape 3yo brigade.
Verdict – Will do well to finish in the top 10
ExpressfromtheUS 75/1
Capable 6 time winner in far less exalted company than he meets here. His claim to fame is winning the Emerald Cup on the Vaal Sand that has been grassed over. Another that has been beaten double figures by Got the Greenlight and another who is making up numbers. A good draw is all that recommends this horse and he is making up the numbers.
Verdict – Will do well to finish in top 10
Crown Towers (AUS) 40/1
Very capable 5yo gelding from the Snaith stable. Seems just off top class though and will in all likelihood be used to set the required pace for the more fancied Snaith runners. Highly unlikely to be troubling the judge even with 5 places being paid.
Verdict – Expect this to set a strong pace and will be lucky to lead the field into the home straight. Midfield at best.
Rascallion 8/1
First of the "hot" Cape 3yo brigade, from the Marshall yard, and there are plenty that fancy this horse to reverse form with Linebacker on the Daily News result. I am not one of them. Rascallion is obviously a boom horse in the home gallops because he is punted every time he steps out and disappoints each time. Has met Linebacker on 5 occasions and has been beaten on 5 occasions. Kommetdieding has also beaten him. There's no logical reason to believe that the July will be any different as he meets at level weights and similar draws.
Verdict – Top class 3yo but safely held by at least 2 of his contemporaries. Back end of quartets at best.
Linebacker 33/10
The second of Marshalls entries and in my opinion, the top 3yo in the race. He has run 8 times won 4 and placed second 4 times. His run in the Daily News where he came from behind Kommetdieding to win going away is a massive pointer to his chances. In my opinion he raced green that day and still won easily. I cannot see a 3yo beating this barring some traffic problems in the race. He will not struggle with the additional 200m. Well drawn and unbeaten with Grant van Niekerk as his pilot, this horse deserves his place near the top of the boards.
Verdict – Possible winner and choice of the 3yo's
Sovereign Spirit 20/1
A 4 lenth third to Rainbow Bridge in this years Met propelled this horses MR 18 points fom 106 to 124 at odds of 100/1. His race record exposes him as less than top class and it is hard to have any confidence that this guy will play a role in this years race. He did win the consolation race last year so we know that he is distance suited.
Verdict - One making up the numbers and won't finish in the top half of the race.
VDJ Hollywoodbets Punters' Challenge
There is a massive R100 000 to be given away in the Vodacom Durban July edition of the Hollywoodbets Punters Challenge, with the player who places first set to bag R50 000! Additionally, there is R1 125 000 up for grabs for the player/s who can correctly tip the whole card! Need to open an account? Register here
Cirillo 40/1
The second entry from the strong Tarry yard and has run in many of the countries big races, has has some creditable places in these to his name. Surprisingly this guy has never won beyond 1400 and there has to be a question mark around his ability to get 2200 at this level.
Verdict – He won't lose his bridesmaid tag in this field and will finish midfield at best.
She's a Keeper 14/1
Talented filly from the Gareth van Zyl yard who has won 5/6 starts. Her last start was her most impressive, winning the BettingWorld 1900. She is the lowest rated horse in the race off a MR96 however the manner in which she finishes off her races make her the dark horse in the race. She should have no problem with the distance however this will be her stiffest test by far and I cannot see her winning.
Verdict – Top half proposition may even finish top 6 if things go her way.
Belgarion 8/1
Last years hero returns to defend his title with a far more daunting task. This was the best weighted horse last year and he duly beat the 3yo Got the Greenlight at level weights comfortably by just under a length in the end. This year Belgarion gives GTGL 3kg so this makes his task difficult on paper. After winning the Green Point in his return to racing, he has been slightly disappointing in being beaten fairly comfortably in all of the Queens Plate, Met and Gold Challenge. This is still a top horse and although he shouldn't win at the weights, ignore him at your peril.
Verdict – Top 4 with outside winning chance
Nexus 40/1
Another top horse from the Snaith stable although seems well held by the top horses. Interestingly has never won outside of the Cape. Had an encouraging run in the Cup Trial but has never featured against this caliber of opposition before. An optimistic entry.
Verdict – Also ran, no realistic chance
Running Brave 66/1
Good for the trainers ego to have his first runner in the big race, can't find any other reason to enthuse about this 5yo mare. Will be totally outgunned, is unproven over the distance, and has soundness issues.
Verdict – My call for last place. Hope she doesn't impede any of the triers.
Got the Greenlight 3/1
Last year's runner up has blossomed as a 4yo and will be a huge runner in this years race. Is the current favourite for the race and the stable are uber confident he will go one better this time out. Well weighted due to a clever objection against the MR raise after winning the Premiers, this horse is effectively meeting everything in the field on 2kg better terms. Has proven to travel well, has regular pilot Yeni up and is in the pink of health according to his conditioner. I would have preferred a run closer to the race and a slightly better draw.
Verdict – Huge runner and worthy favourite. One to beat at the weights
Matterhorn 50/1
Very game and consistent 4yo 4 time winning gelding. Will have no problem with the distance albeit he is drawn wide. Has his regular jockey up who knows the animal well. He meets a far superior quality field than he is used to and will do well to finish in the top half.
Verdict – Over-matched, will be making up the numbers
Do It Again 6/1
Dual winner of this race in 2018 and 2019 and was without doubt the best on show in last years race where he finished 3rd less than a length behind Belgarion giving that and GTGL 6.5kg. This guy has been sparingly raced since that run and has only had one race into this, showing his wellbeing by winning a 1600 Pinnacle. He is far better weighted this year to turn the tables on Belgarion and GTGL but the question must be asked whether he is still the same horse. Snaith is a master at producing this guy ready to fire in KZN and he needs to be respected. His wide draw shouldn't be too much of an issue with Fourie up.
Verdict – Top 6
Tristful 75/1
Will be competing with Running Brave for last. Soundness issues made me go for Running Brave. Totally outclassed, another that shouldn't be in the race. It appears that connections do indeed count when looking to get a run.
Verdict – There's more chance of Lord Lucan being spotted in the stands than this finish in the top 10. No chance
Kommetdieding 25/2
Much hyped 3yo who has seen his bubble well and truly burst by Linebacker in KZN. If good news stories were a guide to the July he would be favourite. Owned by a small owner and trained by a very unfashionable yard this guy carries the hopes of the Cape Flats on his shoulders and has become a cult figure in those areas among racing fans. Unfortunately the reality is that although he is good, hes nowhere near as good as the Marshall coupling and has been exposed on the Daily News run where both the Marshall horses came from behind to beat him. There are also obvious question marks about whether the horse will see out the 2200.
Verdict – I cant see this in the top 6
Ou Ryperd's top 4 finishers
1st Got the Greenlight
2nd Do It Again
3rd Rainbow Bridge
4th Linebacker
Approximate odds quoted are subject to change
To celebrate the Durban July, get a 15% bonus on ALL deposits made with Hollywoodbets between 24 June – 4 July 2021 (T&C's apply). Open an account here
Durban July, runners, riders, latest odds, video preview, betting tips and FREE BET and BONUS offers
More Durban July tips from horse racing experts in our community are available on our discussion forum